August is coming to an end, which means that the slower pace of summer homeschooling is almost over too. Over the next two weeks we'll all be soaking up the last rays of the summer sun and the freedom that it brings. Why is it that summer homeschooling can be filled with fun learning opportunities, but throughout the rest of the year we struggle at times in our homeschool?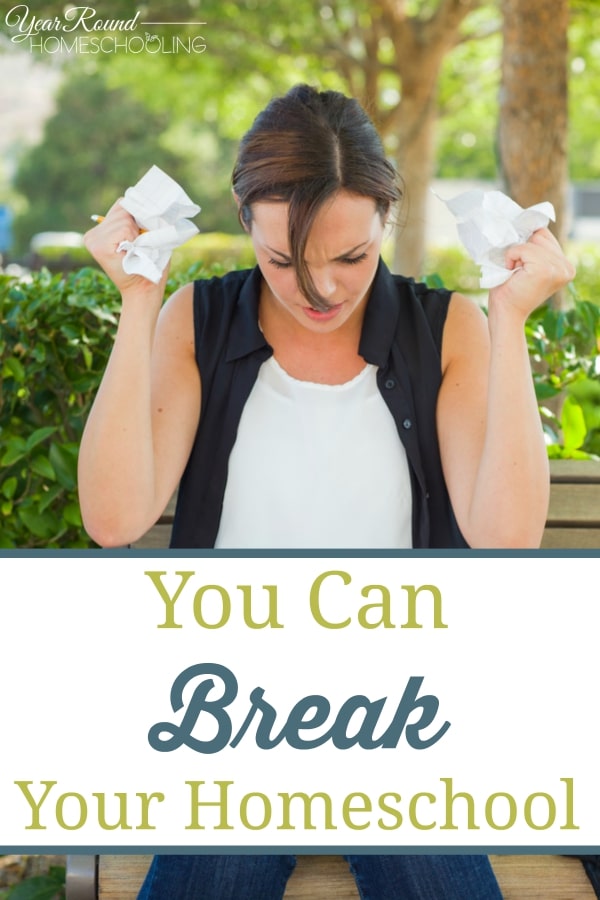 Every year homeschool moms take time to plan out their homeschool year. How far in advance we plan varies, whether we plan the entire year at once, a month at a time or a one day at a time, homeschool moms always have a plan. Once we've taken the first step on that plan it is hard to take a break or stop moving forward. It's even hard to stop when we know that our homeschooling isn't going well or when it's just not working.
When we get stuck in our plans, pushing forward even when we know that something isn't working, we are failing our children. We all have different specific reasons that we homeschool, but one reason that every homeschool parent has in common is that we chose homeschooling because it was best for our children.
Change is hard. Trying to figure out what exactly isn't working can feel impossible. Yet, our children are depending upon us. They need us to pay careful attention to our homeschooling journey. We must be ready and willing to make adjustments as needed in our homeschool.
[Tweet "Our plans for the homeschool year do not make or break our #homeschool. We do. "]
It doesn't matter if your entire homeschool plan gets thrown out the window, you can start with a new plan in the middle of the year. If your children need a longer break than you had planned, that's ok. Should you find that your homeschool plan that has worked for years just stops working, take time to come up with a new one.
Homeschool plans can not be set in stone. Children change. Life changes. We change.
We must always be ready for changes, willing to change and accepting of the changes that our homeschools require. Our children and their education are depending on us.
Our plans for the homeschool year do not make or break our homeschool.
We do. 
As we're coming up on a new homeschool year, I encourage you to take time to prepare yourself for any changes that will come your way this year. When we take note that changes will need to be made ahead of time, we're more likely to recognize the signs that change is needed more swiftly and we'll be more accepting of the changes that we do make in our homeschool.