There are many benefits to monthly homeschool planning! This method works exceptionally well for those that use unit studies, with rotating work schedules and of course, year round homeschoolers.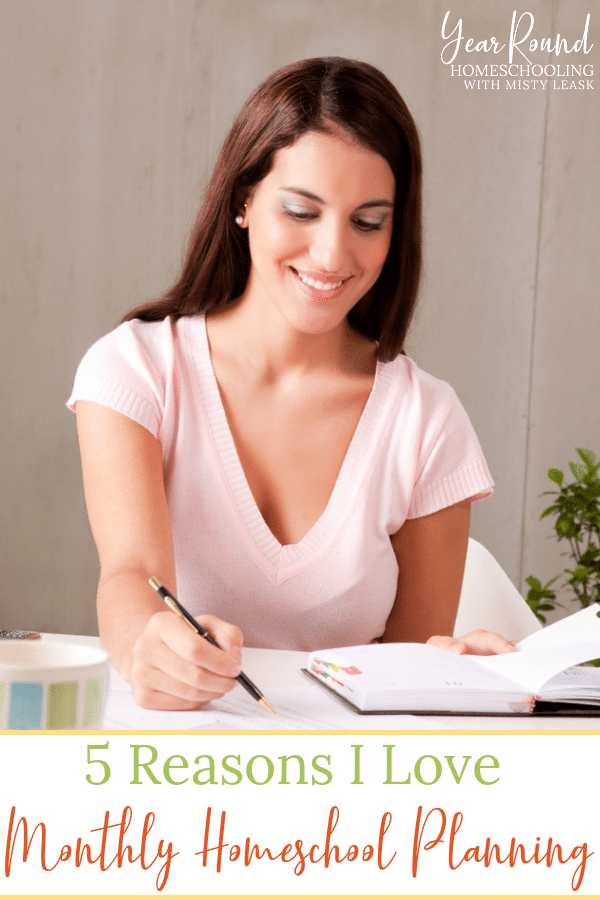 Finding the right homeschool planning method is not always easy. Sometimes you have to plan your homeschool in several ways to stay just enough ahead to ensure you don't fall behind, lose track of your vision for the year or forget what your children told you that they want to learn about.
Over the years, I had to change a lot of the things I'd done in our homeschool because of our move to a child led homeschooling method. Each new step allowed me to let go of my children's education a little bit more and I learned to love the freedom it provided both myself and my children.
I do most of my homeschool planning on a weekly basis, but I also do some monthly planning for several reasons. Mostly because I don't like to be caught off guard not knowing what we'll be studying over the next few weeks. That's the biggest reason why I continue to plan out a homeschool overview on a monthly basis in addition to my weekly homeschool planning.
Why I Love Monthly Homeschool Planning
Monthly homeschool planning allows you to ensure that you are adequately prepared for fun, hands-on learning activities for the subjects and topics that your children will be learning about.
It gives you time to study up on any subject or topic that you may need a refresher for or need to research for the first time to ensure you're able to teach your children properly.
You can adjust your weekly homeschool plans easily if you cover more or less than you had planned because you've already planned your homeschool schedule a bit in advance.
You'll know when you'll need a new textbook, unit study or other homeschool resource of your choice ahead of time.
If you get sick or life happens and you're unable to plan for a week or two, you don't have to worry about not having the resources your need or not know what you'll be teaching.
Monthly homeschool planning isn't right for everyone, weekly or yearly planning may work best for you. If you've tried (or do try) monthly homeschool planning and it just doesn't seem to fit, don't try to make it work. I encourage all homeschool moms to stay a bit ahead of their homeschool planning, but you don't have to detail plan a month in advance. After all, life does happen and rabbit trails do pop up!
Your homeschool is unique, so your homeschool planning method can be too! Find what works best for you and stick with it, I simply share things I've tried and other ideas to encourage other homeschool moms to try different things in their homeschool and to think outside of the box!