Homeschool moms typically are prepared for their homeschool days. We have our lessons plans, homeschool resources and curriculum, pens, pencils and paper all ready for our homeschool day to begin. Yet, often that is where our preparations end. We rarely take time to consider how we'll handle any severe lows or extreme highs in our homeschool days. Instead, we just prepare how to begin, what we'll teach throughout our learning time and how the day will end. We fail to plan for the moments in between.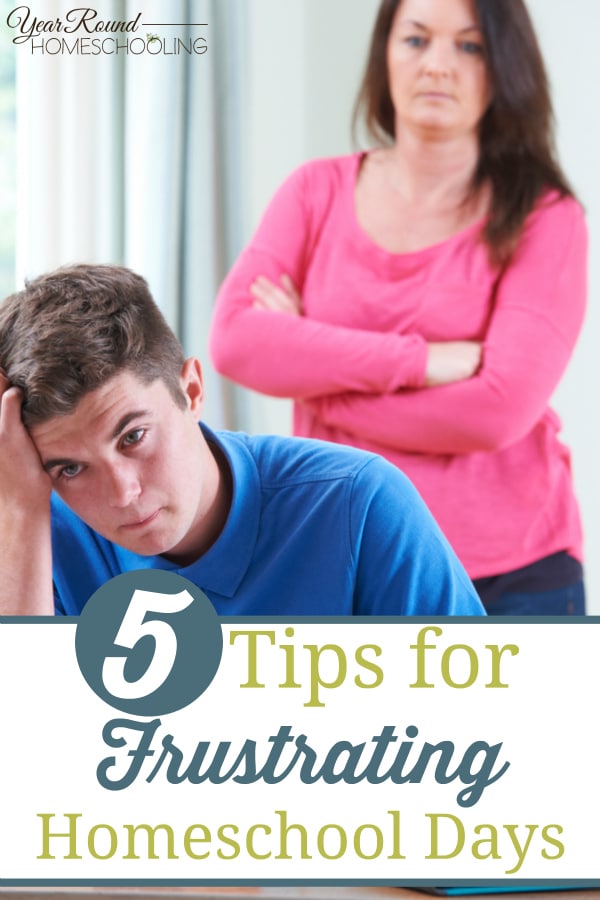 Frustrating homeschool days are going to happen, but that doesn't mean that our day is a complete waste or a total disaster. As homeschool moms we need to remember that all homeschool days aren't perfect so that when an imperfect one comes our way we aren't devastated by it. We need to be ready for the frustrating homeschool days just as much as we need to be prepared for the outstanding homeschool days that require celebration!
After 6 years of picking apart our homeschool and the overwhelming amount of frustrating days I discovered two very important things that changed our entire homeschool; first, our homeschooling method had to change and second, the truth behind frustrating homeschool days. Not every homeschool mom will need to take the drastic step to change their homeschooling method, but we all need to be prepared for frustrating homeschool days. After realizing the truth about frustrating homeschool days, it has become easier to be prepared for them and handle them when they come our way.
Every homeschool day is unique, so there isn't anyway to fully be prepared for each frustration you'll face, but there are a few things you can do to help you and your kids throughout the frustration.
Where is it written that recess isn't for homeschoolers? Let the kids go outside to play, they need to burn energy and you need time to breathe. If the weather is too cold to send them outside, do a mini PE lesson inside – teach them how to do jumping jacks, sit ups, lunges, etc.
Take a break and just spend time with your children. Don't rush around getting chores done or running errands. Just enjoy being their mom. Don't add the "lost" lesson plans from today to tomorrow's schedule. After all, learning happens best at our children's own pace. Don't try to hurry them along, they will learn best when you follow their lead.
Sit down and talk to your kids and ask them why they think that homeschooling isn't going well today. When we take time to talk to our kids and allow them to share their thoughts and feelings with us, they often end up teaching us something. Your kids may be able to shed light on the difficulties that you hadn't been able to see and together make a plan to move forward with your homeschool day.
Let your kids determine the day's lesson plan
Hand over the reigns to your kids and ask them what they want to learn about for the day. Let them run with a rabbit trail and see where it leads! Remember to smile like it's exactly what is on the lesson plan and watch their eyes sparkle with delight to learn!
I wish I could say that one of the last 4 tips would always be the answer, but I can't. Somedays we won't feel like homeschooling and other times our kids will push us to see how far they can get, in these types of moments we have to keep pushing on. Sometimes homeschooling our children requires that tough love comes into play because our children's education is our responsibility.
Homeschooling is a journey that will have it's ups and it's downs, there are no perfect homeschool days. When frustrating homeschool days come our way, we must always remember this truth.
How do you handle frustrating homeschool days?