Planning a year round homeschool day can be challenging to figure out because you have 365 days to teach instead of 180 days. It truly provides an amazing amount of freedom to both homeschool moms and homeschool kids, but getting started with year round homeschooling is a big change!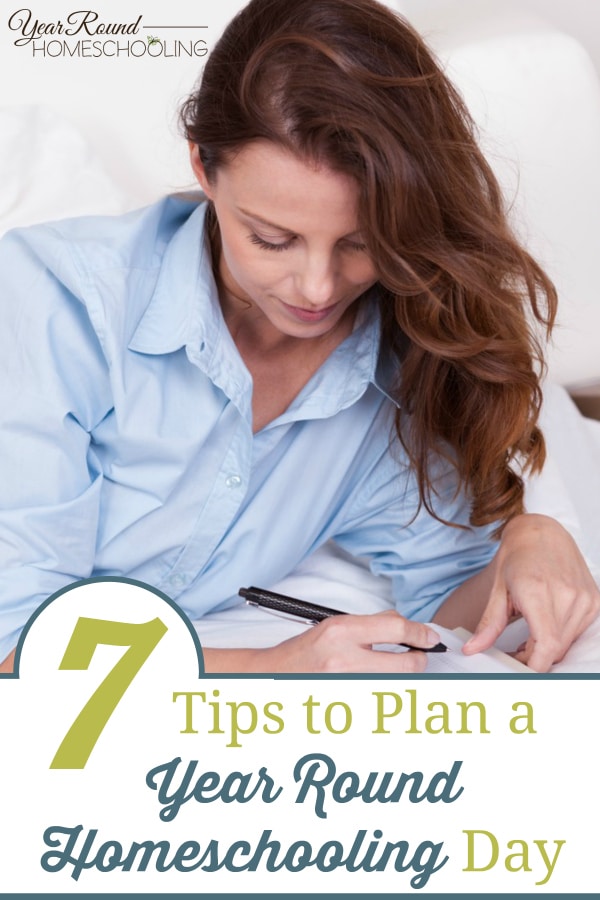 Before you can begin planning a year round homeschool day you have to determine what your year round homeschooling schedule will be. Once you have figured out when you'll start, end and take vacations/breaks for your homeschool year you'll be ready to start planning your homeschool days!
How to Plan a Year Round Homeschool Day
Consider your family's normal wake up and bed times
If your family enjoys sleeping in then your homeschool should not start at 8am and afternoon/evening may be the best times for homeschooling your kids. My children are early risers typically and are learning that the earlier they get started the more uninterrupted they have to play and enjoy the day.
Know how long your kids can pay attention and sit still
Every child's attention span is different, so before scheduling 3 hours of sitting school time for your busy kids consider how long they truly can handle learning without a break.
Plan to take 2-3 short breaks a day in addition to your lunch/dinner break
I don't recommend setting a specific time for daily breaks because it works best for you to simply watch your children and recognize the signs of them needing a break. Break lengths depend on the age of your children, the length of their attention span and the length of your homeschool day. I encourage you to ensure that your breaks are at minimum 30 minutes long to ensure that your kids have time to clear and rest their mind before returning to their school work.
No matter what career path our children will follow they will need to know how to read, write and complete basic math skills. There will be days that you only complete reading, writing and arithmetic and that is ok.
Decide how often/when you'll teach extra subjects like science, music, art, etc. 
Some homeschoolers like teaching each of these subjects once a week, while others teach one to subject at a time to completion before moving onto the next one.
Look back over your lesson plans to ensure that you did not over plan your homeschool days
As a year round homeschooler you must remember that you have 365 days to homeschool your children, so you do not have to teach 4+ subjects each day. You can easily teach all subjects required in a year by adding just one major subject in addition to math, reading and writing.
You will encounter frustrating homeschool days, days when one subject will require your full attention and days that you will just need to take the day off from homeschooling. Do not push yourself and your children on these days. Learn to recognize when you and/or your children need a break. If your kids are stressed, tired or overwhelmed they will not remember their lessons no matter how long or hard you work on them.
Planning a year round homeschooling day provides the greatest amount of freedom that you'll find in homeschool planning. I'm fully confident that you'll come to love the less full homeschool days and the flexibility that year round homeschooling can provide as you begin and continue your year round homeschooling journey.
What is your best tip for planning a year round homeschooling day?