Once you've made the decision to homeschool year round you have to figure out a yearly schedule for your homeschool, which is something you've likely never done. When following a "normal" school schedule you know that you'll start in September and your final lessons will be complete by the end of May. That seems simple, but it can be very stressful, which is why I love the freedom that creating a year round homeschooling schedule provides!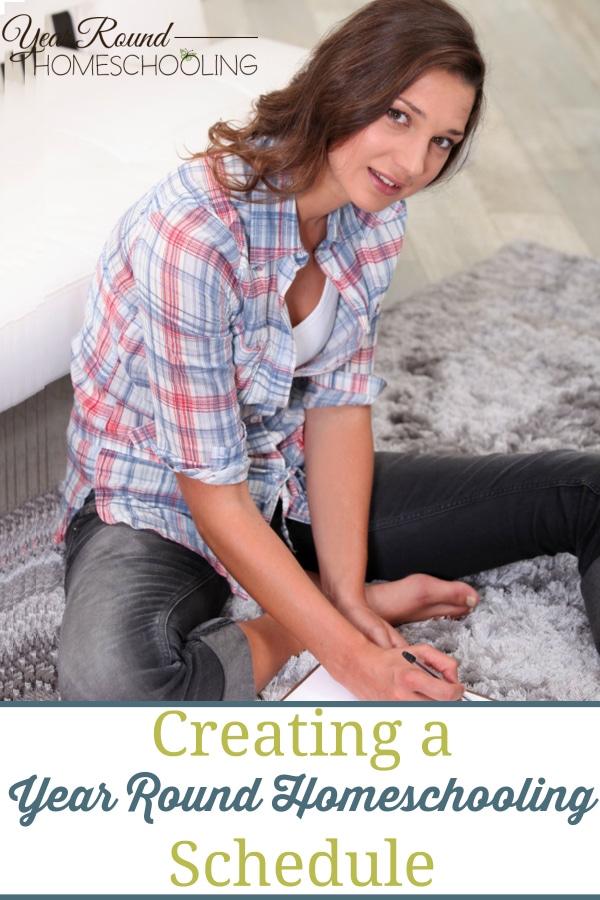 Deciding what your year round homeschooling schedule will be can be a bit challenging and overwhelming for some, especially if you are moving from a "normal" school schedule to homeschooling year round. Learning how to look at the entire calendar year as your planner truly is amazing, but it can be an immense pressure for those not accustomed to it. It is my hope and prayer that these few tips will help make creating a year round homeschooling schedule easier and more enjoyable for you as you prepare for the new homeschool year!
5 Tips for Creating a Year Round Homeschooling Schedule
Select your homeschool resources 
Creating a year round homeschooling schedule is easier if you have resources chosen because you can see how long each course is to help determine what your homeschool schedule should look like. If you are a textbook based homeschooler, then you'll likely find that there are 180 lessons inside each of your student's subjects. That makes planning your homeschool fairly easy! If your kids enjoy unit studies, then you can easily plan those for year round homeschooling as well by ensuring your schedule segments end when a unit study is completed.
Consider your husband's work schedule (and yours if you're a working homeschooling mom)
My husband's self employed commercial fishing work schedule is what caused us to move to a year round homeschooling schedule. He was off certain months of the "normal" school year, so trying to get my kids to focus on schoolwork wasn't working because daddy was home. If you or your spouse has certain work seasons that are slower or you like to take vacations during particular months of the year then consider making those your year round homeschooling scheduled vacation/break times.
Take into account the weather where you live
We live in Maine and our winter months are very cold, so I've learned that the bulk of our homeschool curriculum needs to be focused on during the wintertime when the kids are inside more than they are out. Back home in Texas the summers are very hot, so if we were there then we would focus on the bulk of our homeschool curriculum in the summertime. As year round homeschoolers we do schoolwork year round, but when there is weather to consider you can adjust when you study heavily vs. having a lighter schedule when the weather is nice.
Contemplate your past homeschool schedule
Look back over your past homeschool schedule and consider the months that you and your children did and did not enjoy homeschooling. As your creating your year round homeschooling schedule try to plan around those times, taking off the months that you didn't enjoy homeschooling and doing school in the months that you did.
Check out various year round homeschoolers schedules
When I began year round homeschooling I could not find any resources, tips or stories to help me along the way. So, I had to find my way on my own and I did so by doing the first 4 steps I've just given you. Our first few years as year round homeschoolers, we followed a quarterly schedule (Sept.-Nov., Jan.-Mar. and May-July), but since we've taken on a family business, our schedule hasn't really solidified yet. I know of other year round homeschoolers now that follow a 3 week on and 1 week off schedule and others that follow the "Sabbath" homeschool schedule (6 weeks on and 1 week off).
I have just one more tip, a bonus if you will!
Learn to recognize when you and/or your kids need a break
Once your year round homeschooling schedule is in place it will be easy to just stick to it like you used to with a "normal" school schedule, but by doing so you're missing out of the greatest blessing that year round homeschooling provides. You do not have to adhere to your homeschool schedule in fear of make up days or overfilled homeschool days. There are 365 days in the year, if you come to a place during your year round homeschool schedule that you need a break, take it!
Creating a year round homeschooling schedule can be a lot of fun because it gives you the opportunity to plan your homeschool journey around your family's lives. All too often homeschoolers forget that homeschooling doesn't just include our children's education, we need to ensure that we are focusing on building character and spending quality time together as a family. No matter what homeschool schedule you create for your family make sure that you allow for flexibility because life does happen even when you homeschool!
What questions do you have about creating a year round homeschooling schedule?