When you first begin your motherhood journey it seems like you'll never have even a smidgen of freedom again.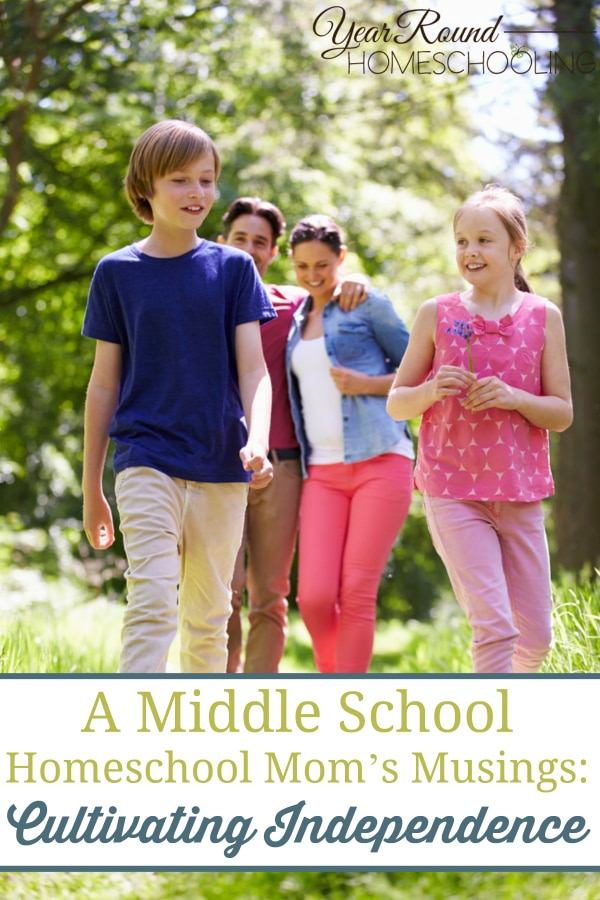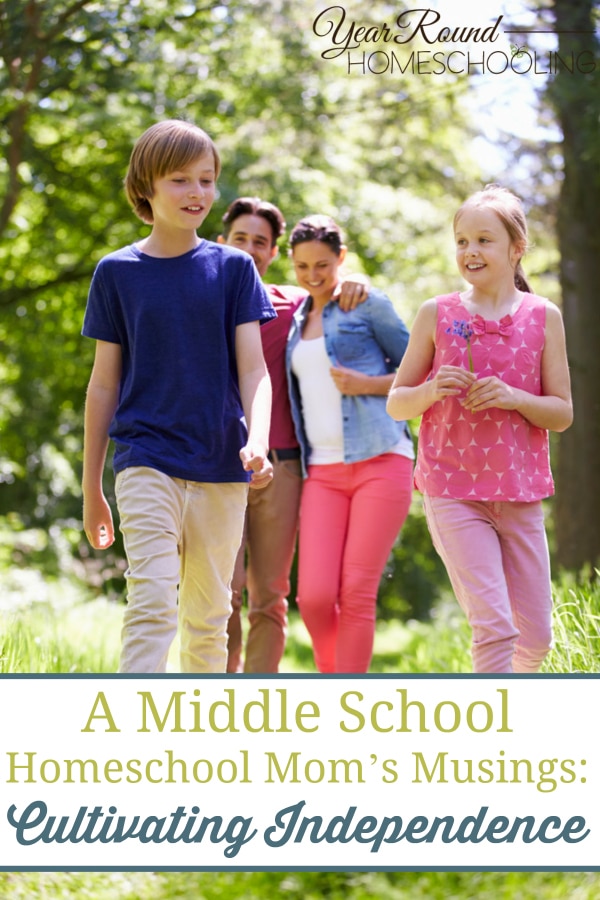 As a young mother you spend an unbelievable amount of time changing diapers. Toddlers requires that you clean up toys several times a day. When your children hit growth spurts you'll cook meals that require you to spend twice as long prepping and cleaning up than it took to eat them!
While it seems that the fully hands-on years of motherhood will never end, it truly does pass by too quickly. All of the sudden one days you'll realize that your children are capable of doing most every day things on their own. You're no longer needed to help them dress, they're able to get their own breakfast and bathing them is no longer an option.
One day a mother dreams of her long lost freedom and another she's saddened by her children's newly found independence.
As a middle school homeschool mom I am currently focusing on cultivating independence in my children and not becoming saddened or depressed by my children not needing me as much as they did in years past.
I realize that while my children do not need me to dress, bathe or entertain them, there are many things that I still need to teach them to do.
When I give my children the opportunity to cook meals for our family, to decide in what order they want to complete their homeschool lessons, to choose their own homeschool curriculum and to allow them to take on simple jobs outside our home, I am cultivating independence in my children while still being a part of their lives. There are also plenty of teachable moments along the path of cultivating independence in my children!
A middle school homeschool mom's journey is significantly different than that of a preschool or elementary homeschool mom, but it is just as important as she cultivate her children's independence to ensure that her children grow up to become mature and responsible adults.
We must not let our tweens and teens need and desire for independence to cause us to neglect teaching them and building relationships with them. Our parenting journey may have changed a bit, but we are still their parents and they still have much yet to learn.
Cultivating independence has become part of our daily homeschooling. My children are responsible for ensuring that they complete their daily homeschool lessons using their weekly planner, one meal each day is prepared by one of my children, my son is responsible for doing the dishes and my daughter is in charge of the laundry.
As I strive to cultivate the independence my children desire I've found that I am able to take a step back and see the young man and lady that they are becoming. As I sit and watch them complete tasks throughout the day, I smile and realize that all the years when I needed to be hands-on were worth it.
One of the greatest blessings that I've received from cultivating independence in my children is that it gives me the opportunity to deepen and strengthen the relationship with each of my children.
How do you cultivate independence in your middle schoolers?

Past Musings…Empty Plates