When I think of Alaska, darkness and cold are what come to mind first. While I know that it is a beautiful state, that is what naturally comes to my mind. While it can be dark and very cold in Alaska, this Alaska State Study will teach your kids all about its history, state facts and much more!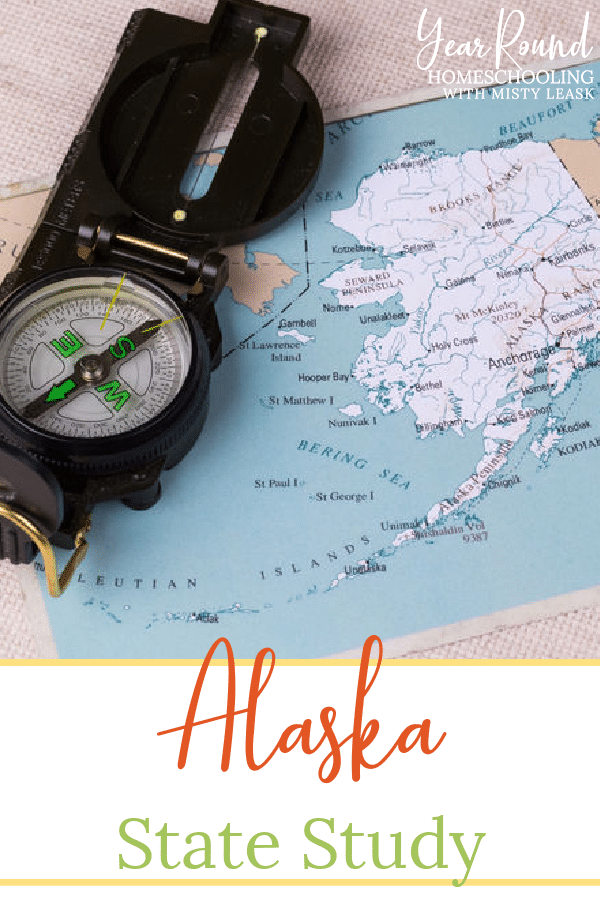 Learning about the country we live in is an important part of your children's education. While you may not be able to visit all 50 states in the U.S. You can still ensure your children learn about the important role each state plays in our country.
This Alaska State Study was designed to make learning about 'The Last Frontier', both fun and educational. I've included videos, articles, literature options, state facts, famous landmarks and more to provide thorough learning opportunities for your children.
Alaska State Study
History of the State of Alaska
Alaska State History Timeline
Civil Rights History of Alaska
History of National Forests in Alaska
Alaska's Presidential Election Voting History
Alaska Literature and Research Resources

All About Alaska
Year Alaska Became a State
January 3, 1959
State Capital
Juneau
State Abbreviation
AK
State Population
731, 545
State Size
663,268 square miles
State Name Origin
The name 'Alaska' came from the native Aleut word, 'Alaxsxaq' (or Alyeska) which has been translated as "mainland" or "great land", but the literal meaning of the word is: "Object to which the action of the sea is directed" or "That which breaks against the shore".
State Motto
The Alaska state motto is, "North to the Future". It was chosen during the Alaska Purchase Centennial in 1967 and was created by Richard Peter. The motto represents Alaska as a land of promise for the future.
State Nickname
The Last Frontier
Alaska was the 49th state to be admitted to the US. Due.to its rugged terrain, harsh climate, its great expanse, and the distance from the rest of the states, it was nicknamed, "The Last Frontier".
State Song
The song "Alaska's Flag" was written by Marie Drake and chosen as the state song in 1955.

State Flag
The blue background represents the blue sky and the state flower, forget-me-nots. The north star represents Alaska as the most northern state and the dipper (or Great Bear) represents great strength. It was adopted as the state flag on May 2nd, 1927, and was designed by Benny Benson.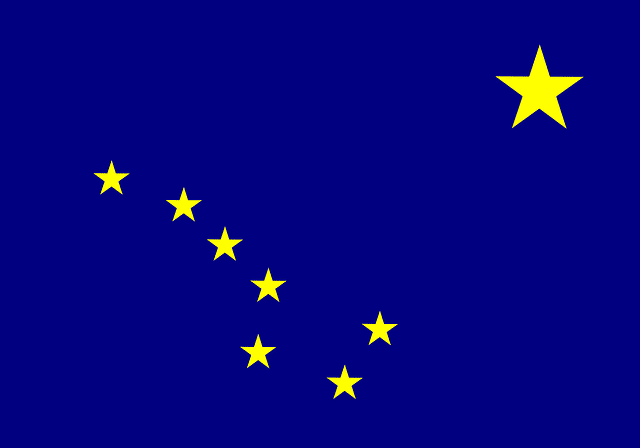 State Bird
The Willow Ptarmigan was chosen as the state bird in 1960 when Alaska became the 49th state. He changes color from light brown to snowy white in the winter.
State Tree
The Sitka spruce, an evergreen tree that grows in central and southeastern Alaska was chosen as Alaska's state tree in 1962.
State Fish
The largest-ever world record for a Chinook Salmon was caught in Alaskan waters, so it makes sense that it should also be adopted as the state fish.
State Animal
On May 1, 1998, the Moose was chosen as the state animal of Alaska.
State Insect
The four-spotted chaser dragonfly was designated Alaska's state insect in 1995.
State Marine Mammal
In 1983, the bowhead whale was chosen as the Alaska state marine mammal.
State Fossil
The Wooly Mammoth was chosen as the Alaska state fossil in 1986.
State Flower
Forget-me-nots (scorpion grasses) are found all over Alaska and were chosen as the state flower in 1917.
Geography
Rivers

Eagle River

Colville River

Copper River

Kuskokwim River

Noatak River

Porcupine River

Susitna River

Tanana River

Yukon River
Tanaina Lake
Badger Lake

Liamna Lake

Becharof Lake

Teshekpuk Lake

Naknek Lake

Tustemena Lake
Highways
National Parks
State Parks
Famous Landmarks
Famous People
James Doolittle

spent his youth in Nome, Alaska. He was a WW2 recipient of the Medal of Honor for leading a group called, "The Doolittle Raiders", on a mission to bomb Japan after Pearl Harbor.

Larry Sanger,

co-founder of Wikipedia moved with his family to Anchorage, AK when he was seven and grew up there. He later left Wikipedia and became quite critical of the online encyclopedia's accuracy saying that it is politically biased.

Walter Harper

, an Alaskan native, was born in Alaska in 1893. He and his wife were two of the passengers aboard the Princess Sofia when it hit a reef during a snowstorm and sunk, killing all 343 passengers on board.

Jewel Kilcher

was born May 23, 1974, in Utah, but her family moved shortly after she was born to her father's hometown in Anchorage, AK. She grew up in Alaska singing and yodeling with her father.

Wyatt Earp

was not born in Alaska, but he did build Dexter's Saloon in Nome, AK and served on Nome's first city council. He also served as the town marshal in Wrangell for 12 days.

Curt Schilling

was born on November 14, 1966, in Anchorage, AK. He is one of the best post-season baseball pitchers in history. He won 85% of his games and holds a record of 11-2.

Archie Van Winkle

was born in Juneau on March 17, 1925. He served as a Marine in three different wars: World War II, The Korean War and the Vietnam War earning the Distinguished Flying Cross, two Bronze Stars, an Air Medal, and three Purple Hearts! After retirement, he returned to Alaska to Bar Harbor in Ketchikan where he lived on a boat until his death in 1986.

James Morrison (the actor)

was raised in Anchorage, AK and actually began his acting career there.

Carlos Boozer

was born on a military base in Germany but was raised in Juneau, AK where he began playing basketball in school. He went on to play basketball professionally in the NBA playing for the Cleveland Cavaliers, Utah Jazz, Chicago Bulls, and Los Angeles Lakers.

Mario Chalmers

was born in Anchorage, AK on May 19, 1986, and grew up playing basketball. He led his school to two state championships and later went on to play both college and professional NBA basketball. He played for 7 seasons with Miami Heat, 2 seasons with Memphis Grizzlies and currently plays with AEK Athens

Mark Schlereth

was born in Anchorage, AK on January 25, 1966. He played football in school and college but didn't receive much attention. However, he was eventually drafted into the NFL where he played 6 seasons with the Washington Redskins and 6 seasons with the Denver Broncos. After retirement, he went on to work as an analyst for ESPN on NFL Live and SportsCenter.
Interesting Facts
17 of the 20 highest peaks in the United States are found in Alaska.

The Yukon River is the third-longest river in the United States

There are over 3,000 rivers in Alaska and more than 3 million lakes!

The Easternmost, Westernmost and Northernmost points of the United States are all found in Alaska.

The largest earthquake in the History of the United States (9.2 on the Richter scale) took place in central Alaska. Actually, 3 of the 10 largest earthquakes in the world have taken place in Alaska!

If Manhattan Island had the same density of population as Alaska, it would have a population of 16 people!

Alaska has the highest population of men in all the United States at 52%.

If you could drive across the ocean from Alaska, you could be in Russia in under an hour. The closest point between Alaska and Russia is 50 miles.

Utqiagvik (maybe more well known as Barrow) has the longest and shortest amount of daylight in the state. From sunrise on May 10

th,

the sun doesn't set for the next 3 months. From sunset on November 18

th,

it doesn't set for almost the next two months.

Almost 1/3 of the state of Alaska is in the Arctic Circle.
Alaska Learning Resources
What did your children enjoy learning the most about the state of Alaska?