Finding ways to make learning fun is important no matter what subject you're teaching kids. These American Sign Language Clip Cards provide a unique, fun way for them to work on learning a foreign language.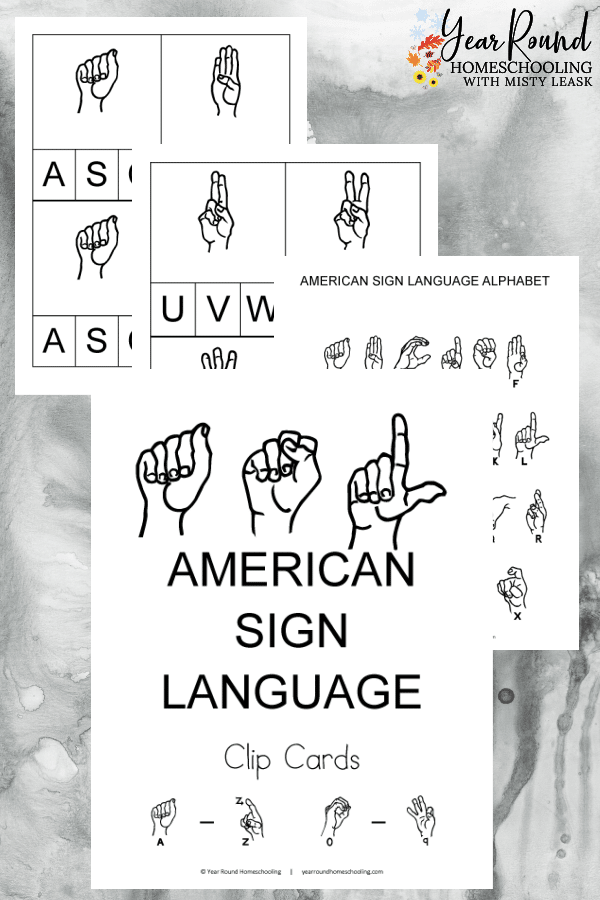 Learning a foreign language can be a challenge. From accents to rolling r's to remembering different verb usage.
The beauty of learning ASL (American Sign Language) is that you don't have to do any of those things.
In addition to it being an easier language to learn for those that struggle with a different verbal language, is it is not a commonly chosen foreign language, so the opportunities are often in abundance for those that do "speak" sign language.
Sign language is an art quite honestly. Take a moment and watch a translator speak to the deaf community and you'll be amazed.
ASL can be used as a foreign language for your children's homeschooling journey, even for their high school years.
My children enjoyed studying sign language. Doing so made them feel like they had a secret communication method.
The earlier you start teaching your children a foreign language, the more likely they are to remember and stick with it.
These American Sign Language Clip Cards work well for those that learn visually and they can be used at any age.
Need a couple of specific reasons why your kids need to learn a foreign language?
Foreign languages are a great benefit to resumes, open doors for ministry opportunities and much more!