Teaching your middle and high schoolers how to compare and contrast books that have been made into movies is easy with this Cinema and Literature Compare and Contrast Pack.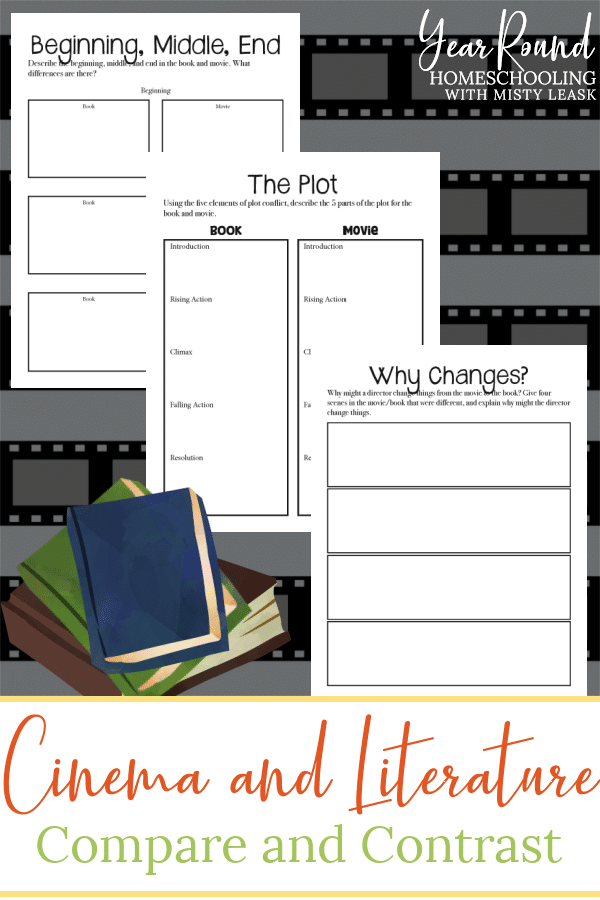 Throughout my children's lives, I've always made them read the book before they were allowed to watch the movie.
I believe it is more important for children to read literature than to watch a movie.
However, this does not mean that I think movies don't have educational value.
In fact, there are some movies that I believe should be seen after reading the book to fully understand and experience what the author has written.
When my children entered middle school, I started having them read books for their literature class and then we would sit down and watch the movie together as a family.
After watching the movie, we would sit and chat about the differences between the book and the movie.
Once they were in high school, I started having them read the book and watch the movies on their own. Afterward, they would then turn in papers sharing their observations, comparisons and contrasts.
You can get your students started learning how to compare and contrast books and movies easily. My kids really loved this part of their literature class.
They got to use their imaginations while reading the book and then see the story come to life on the screen.
Oftentimes, they discovered significant differences between the books and movies that became quite the discussion at the dinner table.
Not sure how to get your kids started?
Inside this Cinema and Literature Compare and Contrast pack, you'll find plot and theme tasks, drawing, character and setting activities and more!
Have younger students that you want them to learn from the movies they're watching? This Family Movie Night Educational Pack is a great first step towards comparing and contrasting movies and literature!