Ready to start learning about the 'Constitution State'? This Connecticut State Study is full of fun facts, resources and information covering all your kids need to know about the state of Connecticut.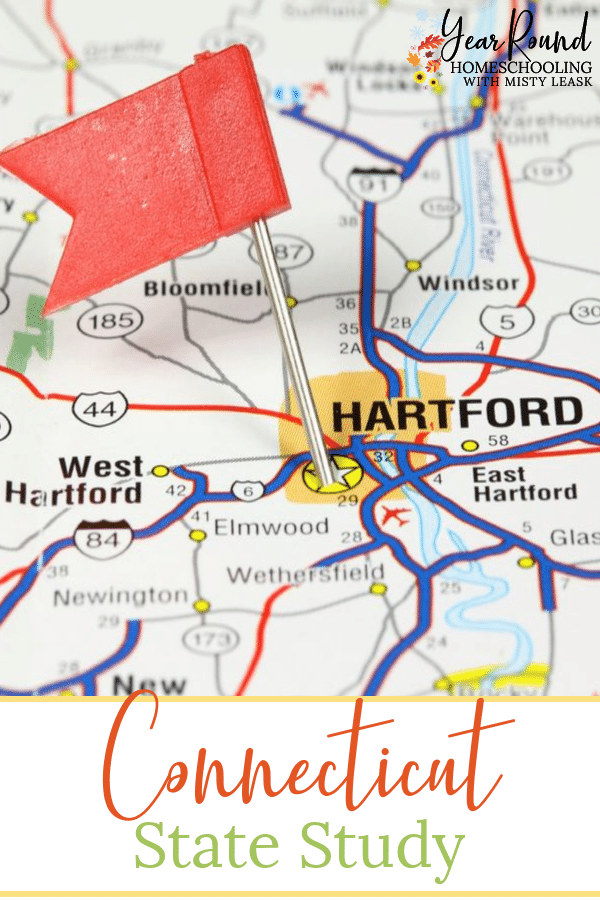 I spend a good portion of my childhood living in the state of Connecticut. My dad was in the Navy and my mom loves winter, so it was an easy duty station pick for my dad.
While my childhood memories aren't in abundance, I do remember spending a lot of time outdoors in Connecticut. We did a lot of hiking, picnicking and exploring.
One of my favorite memories from Connecticut was spending the 4th of July at a park listening to the radio play music set to the fireworks. I haven't had that experience anywhere else in my life. It was amazingly memorable.
I designed this Connecticut State Study to make learning about the 'Consitution State', both a fun and educational experience. I've included videos, articles, literature options, state facts, famous landmarks and more to provide thorough learning opportunities for your children.
Connecticut State Study

Connecticut Literature and Research Resources

All About Connecticut
Year Connecticut became a state
January 9, 1788
State Capital
Hartford
State Abbreviation
CT
State Population
3,565 million (2019)
State Size
5,567 square miles (ranking 48th in size)
State Name Origin
Connecticut was named after the Connecticut River which runs down the middle of the state. It is basically an Americanized spelling of the word Quononiquett which is Algonquian (Native American from that area) meaning, "Beside the long tidal river".
State Motto
Qui Transtulit Sustinet meaning, "He who transplanted still sustains". The exact origin of the motto is unsure, however, it is believed that it was most likely derived from Psalms 80. "Thou hast brought a vine out of Egypt. Thou hast cast out the heathen and planted it."
State Nickname
The Constitution State is the official nickname chosen by the General Assembly in 1959. Since the 19th century, it has been claimed by historians that Connecticut had the first ever written constitution in history dating back to 1638/39.
State Song
The composer of the song is unknown, but Yankee Doodle was chosen as the official state song of Connecticut on October 8, 1978.

State Flag
The state flag of Connecticut features a coat of arms on a blue background. The flag is based on the colonial seal of Connecticut from 1711. It shows three grape vines that are said to represent the original 3 colonies, Connecticut, New Haven, and Saybrook that were "uprooted and replanted", thus the scrolled motto below the sheild: Qui Transtulit Sustinet meaning "He who transplanted still sustains".
State Bird
The American Robin was chosen as the state bird by the General Assembly in 1943.
State Tree
When King James II tried to revoke the Royal Charter giving Connecticut rights to govern itself, the charter was hidden in a hollow space in a white oak tree. This tree was labeled "The Charter Tree" and when it fell in a storm in 1856 pieces of its wood became treasures to many. Three chairs were crafted from its trunk; one of which is the seat of the president of the State Senate. In 1947, the white oak was chosen by the General Assembly as the state tree.
State Shellfish
The General Assembly chose the Eastern Oyster to be the state shellfish in 1989.
State Animal
In 1975, the Sperm Whale was chosen by the General Assembly to be the state animal.
State Insect
The European "Praying" Mantis was chosen by the General Assembly in 1977 to be the state insect.
State Ship
The USS Nautilus was the world's first nuclear-powered submarine and was built by Connecticut craftsmen. It was chosen in 1983 by the General Assembly to be the state ship. Since the ship is docked there and can be viewed by visitors it was also named a State Landmark.
State Fossil
Eubrontes was named the state fossil in 1991 by the General Assembly.
State Mineral
The Almandine Garnet was designated as the state mineral by the General Assembly in 1977.
State Flower
In 1907, the Mountain Laurel was chosen as the official state flower. It is also known as Calico Bush or Spoonwood.
Geography
Rivers

Connecticut River

Housatonic River

Quinebaug River

Farmington River

Quinnipiac River

Scanic River

Naugtauck River

Pawcatuck River

Shepaug River

Still River

Lakes

Candlewood Lake

Mashapaug Lake

Mansfield Hollow Lake

Winchester Lake

Crystal Lake

Gardner Lake

Lake Waramaug

Squantz Pond

Lake Zoar

Hop Brook Lake

Bantam Lake

Lake Lillinonah

Stillwater Pond

Highland Lake

Bolton Lakes

Saugatuck Reservoir

Forests
Highways
Interstate 91 – North and South

Interstate 95 – North and South

Interstate 395- North and South

Interstate 684- North and South

Interstate 84 – East and West

Interstate 384- East and West

Interstate 691- East and West

Interstate 291 – Northeast and Southwest
National Parks
State Parks
Famous Landmarks
Famous People
Katharine Hepburn

(May 12, 1907- June 29, 2003) was born in Hartford, CT. She was an American actress and Hollywood's leading lady for over 60 years. She was well-known for being unconventional, independent and the embodiment of what is considered the modern woman.

Walter Camp

(April 7, 1859- March 14, 1925) was born in New Britain, CT and spent his life playing and coaching American football. He, along with many famous players of his time created the line of scrimmage and the system of downs and is known today as the "Father of American Football".

Mark Twain

(November 30, 1835- April 21, 1910) was born in Florida, MO, but lived for many years and wrote many of his novels in Connecticut in a house next to Harriet Beecher Stowe. His real name was Samuel Langhorne Clemens but is best known by his pen name, Mark Twain. His most popular novels are perhaps

The Adventures of Tom Sawyer

and

Adventures of Huckleberry Finn

.

Glenn Close

(March 19, 1947- present) was born in Greenwich, CT and is an American Actress well-known for her roles in movies from the 1980's and 1990's. In 2016, she was inducted into the American Theater Hall of Fame and is considered one of the 100 most influential people in the world.

Brad Ausmus

(April 14, 1969- Present) was born in New Haven, CT and is a former professional baseball player. From 1993 to 2010, he played for the San Diego Padres, Detroit Tigers, Houston Astros, and Los Angeles Dodgers. He was well-known for being a brilliant catcher and game caller.

Harriet Beecher Stowe

(June 14, 1811- July 1, 1896) was born in Hartford, CT and is best known as the author of the novel

Uncle Tom's Cabin

. She became very influential in the United States and Great Britain as an abolitionist and wrote 30 books, 3 travel memoirs, and many articles.

Noah Webster (October 16, 1758- May 28, 1843) is considered the "Father of American Scholarship and Education". His spelling and definitions for words are still widely used today. Webster's B

lue-backed Speller

textbook taught five generations of people, impacting lives who continue to influence our society today.

Karen and Richard Carpenter

(March 2, 1950- February 3, 1983 and

October 15, 1946- Present) were a popular sibling duo of the 1960's and 70's known as "The Carpenters". Some of their most popular songs were

Close to You, We've Only Just Begun, For All We Know,

and

Rainy Days and Mondays.

Benedict Arnold

(January 14, 1741- June 14, 1801) was born in Norwich, CT. He was an American officer during the Revolutionary War infamous for defecting to the British and planning to surrender the fort at West Point, New York to the British army. Although his plan was discovered, Arnold escaped and was given a position in the British service. His name became synonymous with being a traitor and is a lesson to all that "A good name is better than riches".
Interesting Facts
Connecticut is home to the first hamburger.

The Polaroid camera was invented in Connecticut.

Color TV was invented in Connecticut in 1948.

In 1908, the first lollipop-making machine was opened in New Haven.

The first automobile law in the United States was made in the state of Connecticut in 1901. It was a speed limit set for 12 mi/hr!

The first phone book ever issued was published in New Haven in 1878 and only contained fifty names.

Connecticut is one of two states in the US that never ratified Prohibition.

Cattle branding began in Connecticut when all farmers were required to mark their pigs.

During colonial times in New Haven, cut pumpkins were used as guides to cut hair in order to ensure a perfect round style. For this reason, New Englanders were known as "pumpkin-heads".

The oldest US newspaper still being published is The Hartford Courant (est. in 1764).

In Hartford, it is against the law to cross the street walking on your hands!
Connecticut Learning Resources
What did your children enjoy learning the most about the state of Connecticut?