There are plenty of free high school homeschool curriculum options for your teens to enjoy!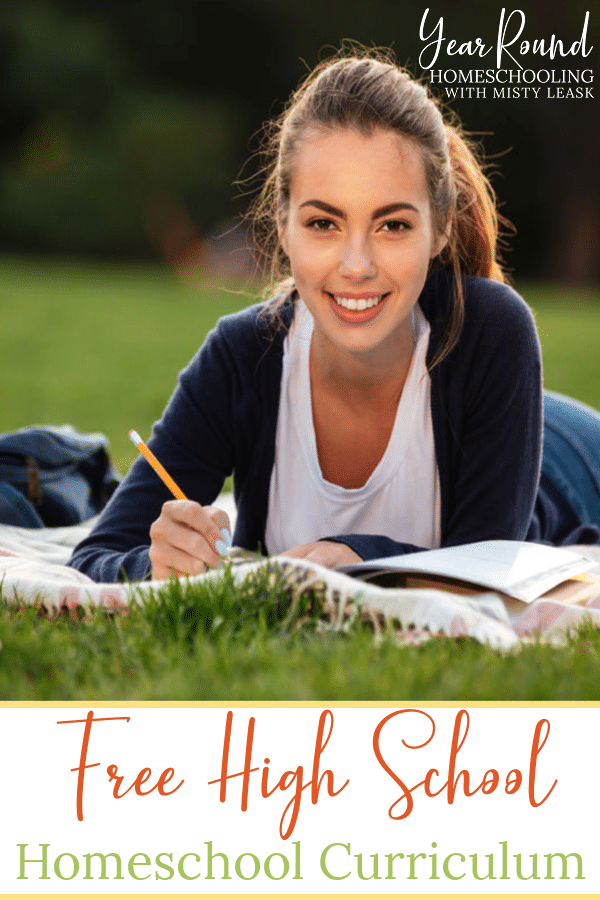 Homeschooling high school isn't as hard as most homeschool moms believe it to be. There are transcripts to consider, but you don't have to be afraid of those. One thing that is important to remember is that you don't have to spend a fortune to homeschool your kids — even through high school!
There are tons of free high school homeschool curriculum resources available, covering almost every subject you can imagine. You can also find audio, visual, online and eBook options available to work with nearly every learning style!
Free High School Homeschool Curriculum
On this site are literally hundreds of courses to choose from, offered by top universities such as Duke, Harvard, Yale, MIT and more. Regardless of the subject, you're searching for, chances are you'll find it on Coursera.
Quick tip: this site features both free and paid options. Type "free courses" in the search box to weed out classes requiring payment. There is an additional option of purchasing a certificate, after completing a no-cost course.
Don't start planning your curriculum calendar until you visit Share My Lesson. This site houses hundreds of really cool high school-level lesson plans and a wide variety of subjects. There's even a section on students with disabilities and gifted and talented learning.
There are over 1,000 self-paced courses covering 9 different categories on this site. Many of them provide diplomas or certificates upon course completion.
This free online university offers self-paced courses covering nearly every subject. The college credit courses that are available can be used to transfer to some colleges as well.
The courses available on this site come from the world's best universities including Harvard, Berkeley and Georgetown. You'll find courses for every subject your high schooler will need to cover here.
This site features over 6,800 free videos covering Math, Science, Social Studies and Humanities. There are also links to worked examples and simulations as well under each subject.
A free, online-based, secular homeschool curriculum that integrates STEM and the Arts without the use of any textbooks and requires no lesson planning.
Through this site, your students can learn Math, Science, Writing, Spelling and much more at their own pace.
There are over 1,300 online courses from leading universities available on this site. You'll also find audio and video options as well for your audio/visual learners.
This website has lessons for your children covering Computer Science, Arts and Humanities, Science, Engineering and Math.
An all-in-one online homeschool curriculum that provides lesson plans, materials lists and covers every subject. Some of their resources are available in print form as well.
This free online-based homeschool curriculum is based on Charlotte Mason. You'll utilize their book lists to cover history, literature, poetry, geography, and science. The only subjects you'll need to find elsewhere are math and foreign language.
The curriculum is organized by grade level and subject. You'll find lesson plans, online resources and recommendations for additional curriculum options and more on this site.
You'll find lesson plans, games, activities and more covering a broad range of subjects for your high schoolers on this site.
This site features Algebra, Geometry, History, Science, French and Literature courses and much more to homeschool your high schoolers.
This complete curriculum utilizes short units of study and review by electronic flashcards.
You'll find hundreds of lesson plans for middle school courses for Math, Science, History, Social Studies, Foreign Language and much more!
There is a course catalog to download that shows what students will complete each of the 4 years of high school by using this free online high school curriculum.
The benefits of a homeschool co-op without the travel or costs they typically require. You'll find live online class options and go at your own pace classes for all subjects and electives for free!
You'll find countless resources to teach every subject in your high school homeschool available on this site.
Mini Bible Lessons offers simple Bible lessons on topics that teenagers typically face in their daily lives. They offer free PDF downloads of the lessons and worksheets on a variety of subjects.
This STEM-based curriculum features over 700 lessons and activities to use as part of your high school homeschooling.
This website offers free basic, advanced, and pediatric First Aid, AED, CPR, Anaphylaxis awareness, and asthma awareness courses. Quizzes are offered as well.
This site features math lessons for Algebra, Geometry, Trigonometry and more for high schoolers. There are also games that require math that they can play as well.
This high school personal finance class is covered in 4 books that teach students how to manage money, handle stocks and loans, make a living, plan for retirement and much more.
You'll find complete high school math curriculum for Pre-Algebra, Algebra 1, Geometry and Algebra 2 on this site.
Your budding artists will love these free art classes that feature lessons covering basic drawing, oil pastels, watercolor, collage, printmaking and much more!
These art lessons are perfect for your non-artistic students and your little artists alike! Your students will have the opportunity to study Mary Cassatt, Vincent Van Gogh, Michelangelo, Norman Rockwell and many more!
Mark Harden's Artchive is packed with resources covering art and the artists who create it. Whether you're teaching Expressionism, ancient art, Renaissance art or contemporary art, this site will help you do so.
This site features short lessons on various science topics featuring a Q&A after each lesson.
Northwest Creation Network is an course on creationism, covering archeology, dinosaurs, exposing the errors of evolution, and more, This is an incredibly comprehensive course.
Carnegie Mellon University offers free courses on a variety of subjects. High School students can benefit from Anatomy & Physiology, General Chemistry 1, and Introduction to Biology
You'll find courses for Biology, Chemistry, Engineering, Mathematics and more for homeschooling high schoolers on this site.
Muses of a Mom offers a high-school level astronomy course complete with quizzes. In this course she links to videos and reading material to offer an interesting and comprehensive course in astronomy. The site is regularly updated.
This 11 chapter curriculum covers the study of Ancient Civilizations from Ancient Egypt to Africa and beyond.
A website that contains lesson plans, curriculum goals and a curriculum assessment for teaching your students about the history of the Civil War.
This curriculum covers US History from the Native Americans to the New Millennium through its 60 chapters.
Teach your students about the American Government through this 13 chapter curriculum as part of their middle school education.
You'll find teaching units, resources, lesson plans and more that teach world history as a single story vs. unconnected stories of many civilizations.
A simple sign-up gives you access to a free PDF that includes free lesson plans and a study guide to teach American History to your middle school students.
Your children will learn how to type well with this free interactive typing tutor program that features 30 online lessons.
Students have the opportunity to learn about computer basics, internet skills, graphic design and much more through this website!
Additional Free High School Homeschool Resources
What are your favorite free high school homeschool curriculum and/or resources?
P.S. Discover more free homeschooling resources here –> Free Preschool Homeschool Curriculum, Free Elementary Homeschool Curriculum, Free Middle School Homeschool Curriculum and Free High School Homeschool Curriculum.