Discover free middle school homeschool curriculum that your kids will enjoy and help keep you on budget.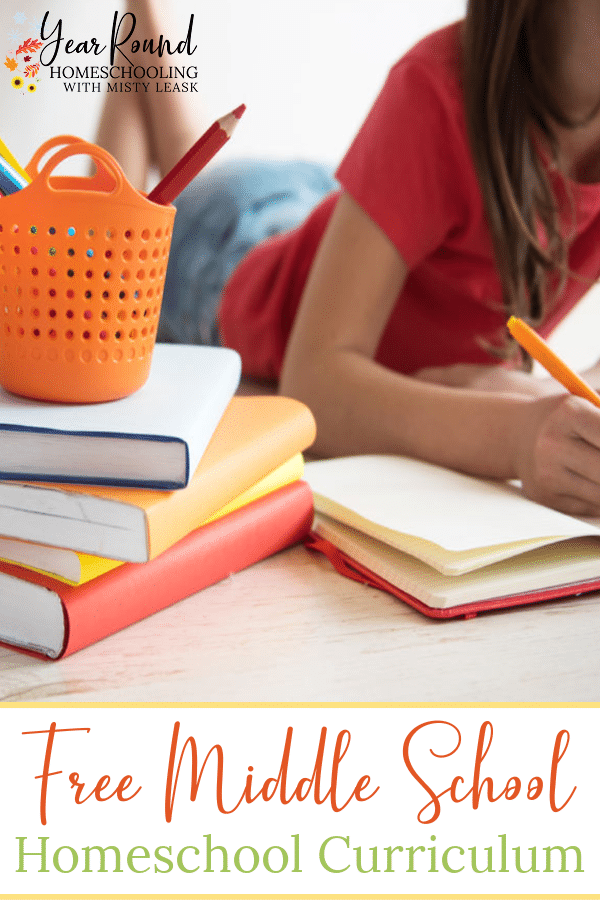 One of the best ways to homeschool frugally is to take time to find free homeschool resources that you can use before buying anything. It can be a long process, but so worthwhile!
However, when children enter middle school it can be more challenging to find free homeschooling resources. There are Free Middle School Homeschool Curriculum options out there, but they aren't as easy to find as free Preschool, Kindergarten and Elementary curriculum.
Free Middle School Homeschool Curriculum
This site features over 6,800 free videos covering Math, Science, Social Studies and Humanities. There are also links to worked examples and simulations as well under each subject.
A free, online based, secular homeschool curriculum that integrates STEM and the Arts without the use of any textbooks and requires no lesson planning.
Through this site your students can learn Math, Science, Writing, Spelling and much more at their own pace.
This website has lessons for your children covering Computer Science, Arts and Humanities, Science, Engineering and Math.
You'll find lesson plans, games, activities and more covering a broad range of subjects for your middle schoolers on this site.
The benefits of a homeschool co-op without the travel or costs they typically require. You'll find live online class options and go at your own pace classes for all subjects and electives for free!
An all-in-one online homeschool curriculum that provides lesson plans, materials lists and covers every subject. Some of their resources are available in print form as well.
This free online based homeschool curriculum is based on Charlotte Mason. You'll utilize their book lists to cover history, literature, poetry, geography, and science. The only subjects you'll need to find elsewhere are math and foreign language.
Science, Social Studies, Language Arts, Literature and Math lessons, games, quizzes and timelines are all available for middle school homeschooling here.
The curriculum is organized by grade level and subject. You'll find lesson plans, online resources and recommendations for additional curriculum options and more on this site.
You'll find hundreds of lesson plans for middle school courses for Math, Science, History, Social Studies, Foreign Language and much more!
An adaptive curriculum that fixes learning gaps through personalized lessons. This curriculum is Common Core based and developed for the tablet.
Middle schoolers can take interactive math lessons through this website which features lesson plans, activities, quizzes and more!
This site features math lessons for basic math, every day math and pre-algebra for middle schoolers. There are also games that require math that they can play as well.
This site contains over 160 math lessons for 6th-8th grade students that each feature a video, worksheet and an online quiz.
Students that need extra practice with parts of speech and tenses may find these video lessons, quizzes and games helpful.
Teach critical thinking, vocabulary, reading, writing and more with this interactive website that features short paragraphs coupled with multiple choice answers.
This site breaks Chemistry down into 7 chapters that include quizzes for middle schoolers to take after completing each lesson.
You'll find lesson plans, activities, videos and more to teach your students' science Chemistry class.
This 11 chapter curriculum covers the study of Ancient Civilizations from Ancient Egypt to Africa and beyond.
A website that contains lesson plans, curriculum goals and a curriculum assessment for teaching your students about the history of the Civil War.
This curriculum covers US History from the Native Americans to the New Millennium through its 60 chapters.
Teach your students about the American Government through this 13 chapter curriculum as part of their middle school education.
A simple sign up gives you access to a free PDF that includes free lesson plans and a study guide to teach American History to your middle school students.
You'll find teaching units, resources, lesson plans and more that teach world history as a single story vs. unconnected stories of many civilizations.
Cover civics with your students through this inventive resource that includes teacher resources, games and more to cover the 20+ lessons included.
Master geography with your 3rd Graders+ using this free PDF that is downloadable in 2 parts. There are weekly lesson plans to use while studying different parts of the world over a 7 month period.
Your budding artists will love these free art classes that feature lessons covering basic drawing, oil pastels, water color, collage, printmaking and much more!
These art lessons are perfect for your non-artistic students and your little artists alike! Your students will have the opportunity to study Mary Cassatt, Vincent Van Gogh, Michelangelo, Norman Rockwell and many more!
There are more than 30 languages that your kids can learn online using this free foreign language curriculum. The lessons feature fill in the blanks, speaking, spelling and more activities to teach.
You can use this resources with or without a free account to teach spelling and vocabulary. A free account allows you to change lists, have them saved and record results.
Your kids will have fun with spelling and vocabulary using the 10,000+ word lists and 40+ learning games on this site. You can use this resource on a computer, tablet or smartphone.
Your children will learn how to type well with this free interactive typing tutor program that features 30 online lessons.
This express course teaches students block programming through the use of drag and drop blocks by creating their own drawings and games.
Students have the opportunity to learn about computer basics, internet skills, graphic design and much more through this website!
Additional Free Middle School Homeschool Resources
P.S. Discover more free homeschooling resources here –> Free Preschool Homeschool Curriculum, Free Elementary Homeschool Curriculum, Free Middle School Homeschool Curriculum and Free High School Homeschool Curriculum.
What are your favorite free middle school homeschool curriculum and/or resources?