When people hear that you've chosen to homeschool high school, often the first questiosn that come to their mind are: Isn't this the time others are coming out of homeschooling? Why would you want to homeschool high school? What are your reasons to homeschool high school?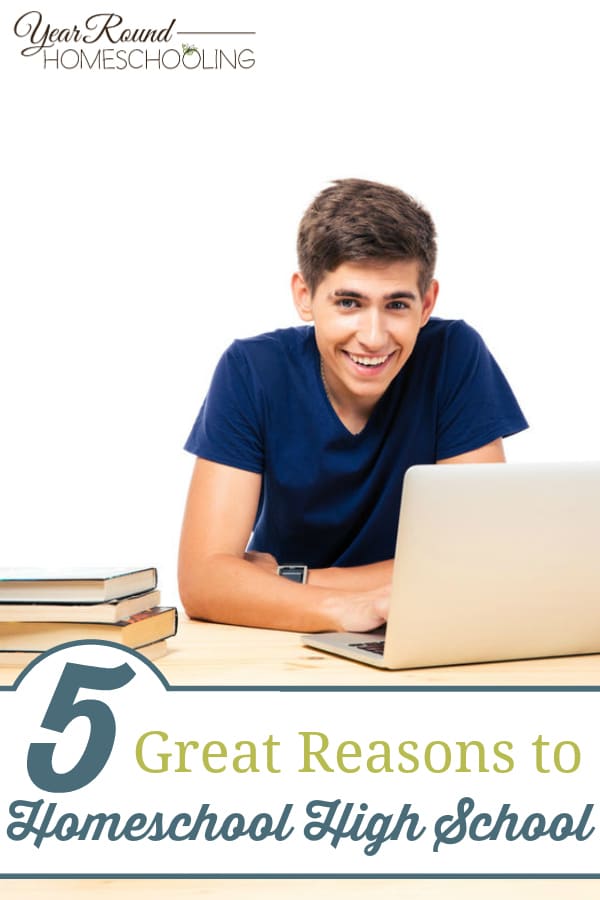 However, there are a ton of benefits of homeschooling high school and even a few high school homeschool luxuries that students can enjoy! As a homeschool graduate, I can say that I loved being homeschool high school and wouldn't have wanted it any other way.
5 Great Reasons to Homeschool High School
1.      Reduce peer pressure
We all experienced it when we were teenagers to some degree and some still do at adulthood. Peer pressure is more intense during high school because that is when teens are going through adolescence and they are trying to find purpose and recognition in life and from the people around them. Bad things happen during this period if left unchecked. When kids go to high school, they feel free and immortal and capable of doing anything without a second thought to the possible consequences.
When you homeschool high school, you are able to reduce this pressure to manageable levels. Mark you, it is not possible to completely eliminate peer pressure, but at least you can keep an eye on your teens and advice them when they seem to go astray. By homeschooling high school your teens will go through this phase of peer pressure in a safe environment.
2.      Gives them a head start on college
The fact that there is no limitation to how kids in homeschool learn makes it easier for them to learn faster and how they learn best. In school, a specific curriculum and timeline has to be followed. When homeschooling, many kids find that they are already taking college classes concurrently with their high school ones. This gives them a better chance at excelling in college compared to their peers.
3.      They are able to learn life skills
Homeschooling high school gives parents the chance to let their high schoolers learn other life skills that might not be taught in school. They have more time to travel, camp and engage in other outdoor activities that other teens in public schools are not exposed to. These life skills will enable them to be better prepared for life out on their own.
4.      Homeschooling high school is efficient
By now, your kids have already become accustomed to the art of learning. You have also mastered their style of learning and it is easy for them to continue learning from you. They would need to adapt to another person's teaching style at school and this might slow them down a bit. Efficiency in homeschooling high school allows teens to explore other extracurricular activities that others do not get the chance to explore.
5.      Gives them better work experience
At some point in their learning, your teens will need to get a job to gain real life experience. When homeschooling high school, they can learn while holding down a job somewhere too. If you work for a company that allows you to take your children to work with you, this is another good way for your teens to gain work experience. By giving your teens the opportunity to gain work experience this will give them great exposure to the real world!
Choosing to homeschool high school is not the easiest choice. Teens alone can be challenging without adding in the responsibility of the most important part of their education. Yet, it can be the most rewarding time of your homeschooling journey, watching your teens become their own person and begin to take on the world outside your doors. Don't let the transcript, curriculum, extra-curricular or volunteer work overwhelm you. It is easier than you think. Finish your homeschooling journey strong…just like you began. Complete the work you started out to do…giving your children the best education possible.
What do you believe the greatest reason to homeschool high school is?