Somewhere along the way homeschooling became school at home. We've forgotten that we chose to homeschool because we knew that school wasn't the best option for our children. Instead of embracing the freedom that homeschooling provides we've chosen to follow the lesson plans and guidelines that textbooks provide. Maybe it's the comforting feeling that by doing so we're ensuring our children's education stays on track or maybe it's just easier to have someone tell us how this homeschooling journey should be done.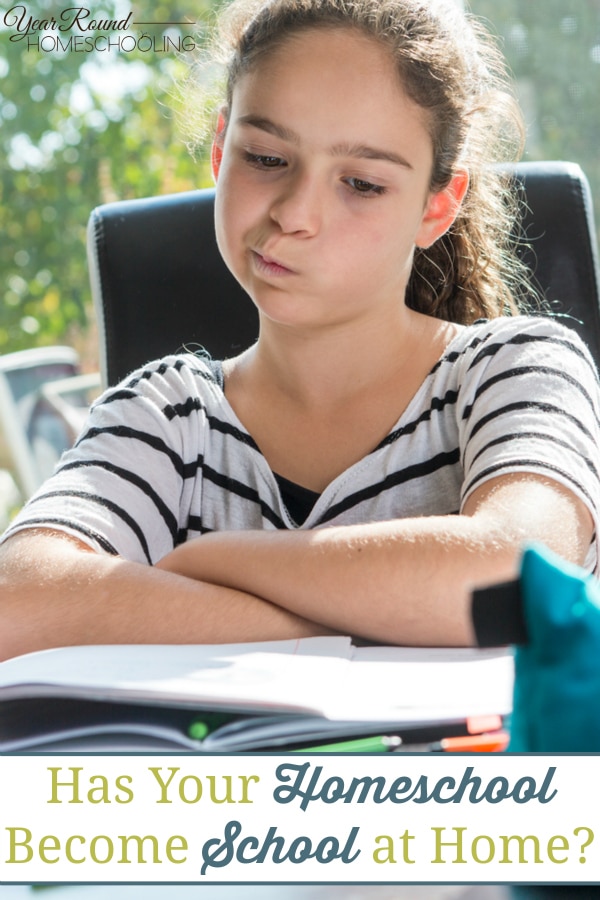 The problem is that when we lose sight of why we chose to homeschool we get stuck doing school at home, which leaves time for little else. The moments both we and our kids used to enjoy learning together have been erased from our homeschool days. Freedom from being bound tightly to a schedule and lessons plans being a guideline instead of a law have long since passed away. Homeschooling has become school at home, we've embraced that which we chose to keep our children home from instead of giving them the ability to learn at their own pace and in their own time.
How has time changed your homeschool? Are you stuck in a pattern of pulling out the days' lesson plans, textbooks and supplies and spending hours a day just trying to get it all done? Do you miss the joy and freedom your early days of homeschooling provided?
Just because your homeschool may have become school at home doesn't mean that it has to stay that way. You can take back your homeschool and once again find the joy and freedom it once provided you and your kids.
Take time to look back of your homeschooling journey…
Discover where the change occurred and why it happened
Decide what steps you need to take to get back to those days
Determine in your mind and your heart that your homeschool is your own
Homeschooling is a blessing to you, your kids and your family. It's a family journey that should be embraced and enjoyed by everyone. Don't let your homeschool become school at home, it robs us of the joy and freedom that homeschooling can provide!
How do you keep your homeschool from becoming school at home?