Visit and learn all about 'The Aloha State' with your kids using this fun Hawaii State Study.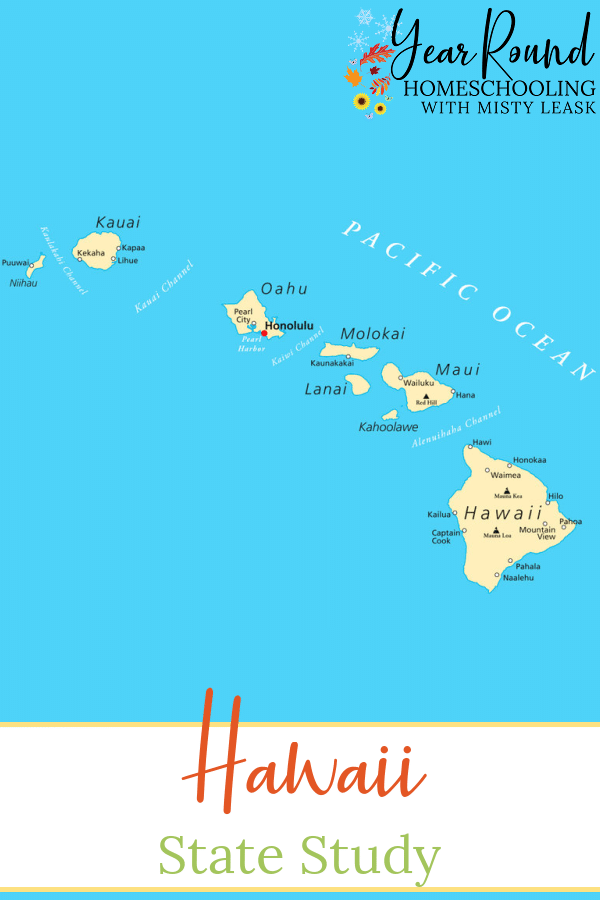 As a sun and sand lover, I'm quite certain I'd enjoy visiting Hawaii if we ever went there. As a Navy Brat, I would like to visit the Pearl Harbor National Memorial in Honolulu someday.
My stepson and husband have been talking about visiting Hawaii for a very long time. It has always been the expense that has kept us from making the trip as it has often been the most expensive destination we've looked into visiting.
So, while I haven't had my toes in the sand in Hawaii or seen it firsthand, I did enjoy the research and virtual trips I made while working on this state study.
I designed this Hawaii State Study to make learning about 'The Aloha State', both fun and educational experience. I've included videos, articles, literature options, state facts, famous landmarks and more to provide thorough learning opportunities for your children.
Hawaii State Study
History of the State of Hawaii
New World Encyclopedia on Hawaii
Civil Rights History of Hawaii
Historical Climate Summaries of Hawaii
Hawaii's Presidential Election Voting History

Hawaii Literature and Research Resources

All About Hawaii
Year Hawaii Became a State
August 31, 1959
State Capital
Honolulu
State Abbreviation
HI
State Population
1.416 million
State Size
6,423.4 square miles
State Name Origin
Hawaiians say that the name of Hawaii is derived from the mythological character "Hawaii'iloa" who is said to have first discovered and settled the islands, thus the islands are named for him.
State Motto
Ua Mau ke Ea o ka 'Aina I ka Pono- "The life of the land is perpetuated in righteousness" was adopted as the state motto in 1959.
State Nickname
The nickname, The Aloha State, was officially adopted on August 21, 1959.
State Song
Lyrics to the Song Hawaii Ponoi were written by King David Kalakaua and were put to music by Captain Henri Berger. This song was adopted as the state song in 1967.
State Flag
The Hawaii state flag has eight horizontal alternating white, red and blue stripes with the Union Jack in its upper left-hand corner. The stripes symbolize its eight major islands, and the Union Jack symbolizes that it was at one time under the protection of Great Britain. It was officially adopted December 29, 1845.
State Bird
The wild nene (Hawaiian goose) was chosen as the official state bird in 1957.
State Tree
The Kukui tree (candlenut tree) was adopted as the official state tree in 1959. It was used for candles by early settlers. However, the Kukui tree is not native to Hawaii, it was brought to Hawaii from Polynesia.
State Marine Mammal
The humpback whale was designated as the official state marine mammal in 1979.
State Fish
In 2006, the Humuhumunkunkuapauaa was adopted as the official state fish.
State Insect
Pulelehua was chosen as the official state insect in 2009.
State Land Mammal
The endangered Hawaiian hoary bat was adopted as the state mammal in 2015.
State Mammal
In 2008, the Hawaiian monk seal was designated as the official state mammal.
State Plant
Kalo was chosen as the official state plant in 2007. It is believed to be one of the earliest cultivated plants in Hawaii. Both its leaves and roots are edible.
State Flower
Pua Aloalo (yellow hibiscus) was designated as the official state flower in 1988.
Pua Aloalo grows on all of the Hawaiian Islands but is considered an endangered species because it is only grown in Hawaii and only a few remain in the wild.
Geography
Major Cities

Honolulu

Pearl city

Hilo

Waipahu

Kailua

Kaneohe

Kahului
Rivers

Anahulu River

Hanalei River

Hanapepe River

Hule'ia River

Kalihiwai River

Lumaha'I River

Waihee River

Wailau River

Wailuku River

Waimea River
Lakes

Green Lake

Halalii Lake

Halulu Lake

Ka Loko Resevoir

Violet Lake

Lake Waiau
Highways
Interstate H-2 – North and South (Oahu)

Interstate H-3 – Northeastern and Southwestern (Oahu)

Interstate 85 – North and South (Oahu)

Interstate H-1– East and West (Oahu)

Interstate H-201 – Northwest and Southeast (Oahu)

Routes 11, 19, 190- Hawaii Belt Road (encircles the island of Hawaii)

Route 30- North and South (on Maui)

Route 31- East and West (on Maui)

Routes 36 and 360- Northwest and Southeast (on Maui)

Route 37 – North-South (on Maui)

Route 50- East and West (on Kaua'i)

Route 51- North and South (on Kaua'i)

Route 56- Northwest and South (On Kaua'i)

Rout 570- East to West (On Kaua'i)
National Parks
State Parks
Kauai:
Oahu:
Hawaii:
Maui:
Molokai:
Famous Landmarks
Famous People
Bethany Hamilton

(February 8, 1990 – present) is a professional surfer from Kauai, HI best known for surviving a shark attack in 2003 which severed her left arm just below the shoulder. Two movies were made about her experiences:

Soul Surfer

and

Unstoppable

.

Daniel Akaka

(September 11, 1924- April 6, 2018) born and died in Honolulu, HI is best known as the first U. S. Senator of native Hawaiian decent.

Barack Obama

(August 4, 1961- present) was born in Honolulu, HI. He became involved in politics even as a college and university student and in 1997 he was elected to the Illinois Senate where he served until becoming president in 2009. Obama is best known as the first African American to become president of the United States. He served two full terms and is the only president since Franklin D. Roosevelt to win the popular vote twice.

Don Ho

(August 13: 1930- April 14, 2007), popular singer and entertainer of the 1960's was born in Honolulu, HI. He is best known for his song,

Tiny Bubbles.

Bruno Mars

(October 8, 1985- present) was born and raised in Honolulu, HI. He is known for his retro showmanship and for preforming an unusually wide spectrum of musical styles including pop, R&B, funk, soul, reggae, hip hop and rock.

Nicole Kidman

(Jun 20, 1967- present) was born in Honolulu, HI but grew up in Australia. She began acting at a very young age in theater and made her debut in film at the age of 16. She is probably best known for her role as Virginia Woolf in the movie,

The Hours

, a role which earned her Best Actress in the 2003 Oscars.

Mother Marianne Cope

(January 23, 1838- August 9, 1918) was born in Heppenheim, Grand Duchy of Hesse but her family moved to the United States when she was a year old. In 1883, she moved to Hawaii answering a call to care for lepers on the island of Molokai. In 2012, for her selfless acts of service, she was declared a saint by Pope Benedict XVI.

Marcus Mariota

(October 30, 1993- present) was born in Honolulu, HI. He became the first Hawaii- born athlete to win the Heisman Trophy and currently plays for the Las Vegas Raiders.

Duke Kahanamoku (August 24, 1890- January 22, 1968) was born in Haleakala (Honolulu) just before the overthrow of the Kingdom of Hawaii. He was a five-time Olympic medalist in the sport of swimming and is known for popularizing the Hawaiian sport of surfing.
Bette Midler (December 1, 1945- present) was born in Honolulu while Hawaii was still a territory of the US. She has won countless awards for her performances as a singer, songwriter, and actress. She is perhaps best known for the 1993 song/album

Wind Beneath my Wings

which won her a Grammy Award for Record of the Year.
Interesting Facts
You can mail unpackaged, unboxed coconuts in Hawaii. Just slap an address on it and mail it.

The largest dormant volcano in the world is on Maui.

Hawaii has its own time zone and does not observe daylight saving time!

Hawaii is the only state with two official languages, English and Hawaiian Pidgin.

The island haze is not smog it is due to volcanic ash from the Kilauea volcano.

Maunakea Volcano on Hawaii Island has snow year- round!

The Hawaiian Islands were still a kingdom with their own monarch a little over 100 years ago.

It is customary to take your shoes off when entering someone's home in Hawaii.

The oldest school west of the Rockies is located on Maui.

Each island has its own official flower and color.

There are no snakes in Hawaii.

Hawaii is home to the largest tree in the world. The banyan tree.

There is no rabies in Hawaii, and it can be complicated to bring your pet on a trip there.

All forms of gambling are illegal in Hawaii!

The southernmost point in the US is Ka Lae on Hawaii Island.
Hawaii Learning Resources
What did your children enjoy learning the most about the state of Hawaii?