Teaching high school fiction writing is not easy for everyone. There are so many different moving parts when it comes to the written word that it can be overwhelming. When you consider that writing includes spelling, vocabulary, grammar and creativity, just to name a few, it is actually completely understandable.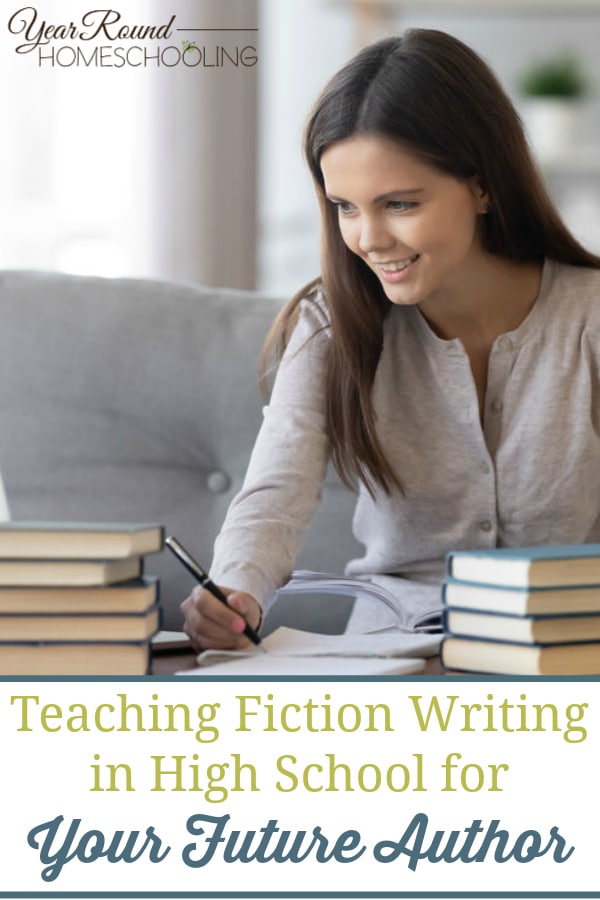 I've always loved to write and my daughter follows in my footsteps. She spends hours a day writing stories that are full of color and imagination. However, even as a writer, I wasn't sure how I was going to teach her high school fiction writing because fiction is not my forte.
While I believe that high schoolers do need to learn how to write research papers and essays, it is especially important that teens are able to do things that they enjoy as part of their homeschooling journey. So, finding a resource that I could use to teach my daughter how to write fiction well was essential.
Teaching High School Fiction Writing with the One Year Adventure Novel
Teaching high school writing with the One Year Adventure Novel was designed to be easy for you and fun for your teens. Throughout the course of one high school year, students that complete the curriculum will write their very own adventure novel.
The first semester they will complete a daily lesson, as well as assigned workbook activities and reading selections. After completing the workbook, your student will then begin putting together their adventure novel using the work they completed during the first semester.
The One Year Adventure Novel course is based upon storytelling and creativity, not grammar and mechanics. If you plan to use this for high school English, I encourage you to add a grammar program to your homeschool plans in addition to the OYAN.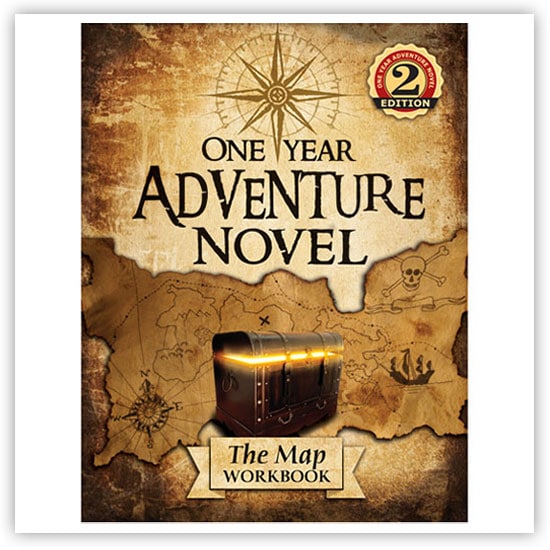 The two main goals for the One Year Adventure Novel course are for students to learn what makes a story a story and to write a compelling adventure novel in one school year.
Your student will learn that storytellers manipulate their audiences through emotion, how to create readable story characters and concrete storytelling techniques, that rough drafts are about creating, to polish grammar and spelling later in their writing projects and much more!
Finishing is better than starting, students that complete the One Year Adventure Novel course can enter into the yearly Novel Contest that they offer!
Course Includes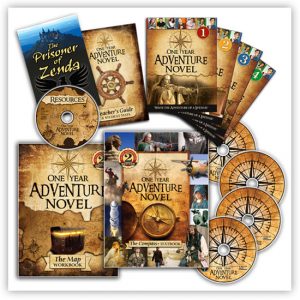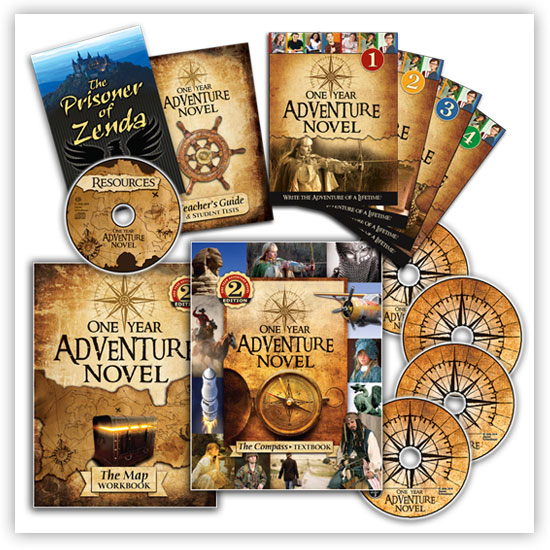 Textbook
Workbook
Teacher's Guide
DVDs with 78 video lessons (also available Streaming)
The Prisoner of Zenda Novel
12+ Classic Adventure Novels in digital format
Weekly Quizzes
Monthly Webinars (2 per month Sept.-May)
Video Contest
e-Newsletter
Additional Digital Resources
Winter and Summer Creative Writing Workshops in Kansas (Extra $)
Story Coaching (Extra $)
Guidelines per High School Grade
Grading and Evaluation Tips
Grading Rubics
Scoring Sheets
How to Use the Course
3 lessons a week
5 lessons a week
As a full English course
As an addition to your existing English course
How the Course Works
Step 1 – Watch the video lesson
Step 2 – Read the lesson in the textbook (and any assigned reading selections)
Step 3 – Answer questions in the workbook (1st semester) or work on the rough draft of your novel (2nd semester)
Parental Involvement
Read chapters
Give honest feedback
Provide feelings based on reading
Weekly quiz grading
Workbook grading
How to Check Out the One Year Adventure Novel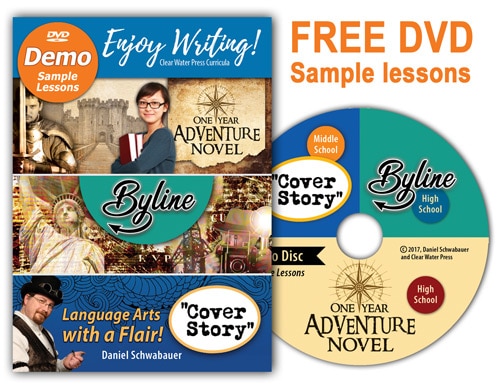 Quick Tips
Have students read Lesson 77 prior to beginning a rough draft for formatting instructions
The Student Forum contains a board that allows students to give/get feedback from other students by posting excerpts of their adventure novels
Parents should read the first 2 chapters of the Teacher's Guide within the 1st month of using the OYAN course
The FAQs included are helpful for evaluation purposes
The One Year Adventure Novel is a great resource for teens that love to write and those that may not love writing, but are imaginative. Sometimes all our reluctant writers need is to be given the opportunity to write about something they enjoy and fiction writing can do just that!
I know that someday my daughter will be a published author and am looking forward to reading the first novel that she writes as part of her high school homeschooling journey through the use of this course!
Not quite at the high school level yet? We used (and enjoyed!) Cover Story, which is Daniel Schwabauer's Middle School Writing Course and it is set up very similar to the One Year Adventure Novel.
What about the One Year Adventure Novel interests you and/or your teen the most?

**Please note resources mentioned in this post may have been received for free or I may have received monetary compensation to write this post. However, the reviews are my personal opinion. For more information, please see my disclosure page.*