One of the things that homeschool mom's dread most about taking breaks is that somewhere in the homeschool year you have to find time for make up days. Often this is due to ensuring that we reach the homeschool days requirement given to us by the state in which we reside, but it can also be due to an unexpected move or family matters that required extended homeschool breaks throughout the year.
It doesn't matter why we need to find time for make up days, the truth is that with the busy schedules that homeschool moms have this task is nearly impossible. We can barely find time to get a shower in the morning or have energy enough to tidy up the house at the end of the day, how can we possibly fit in homeschool make up days?
The typical homeschool day requirement is 175-180 days, as a year round homeschooler you have the same amount of days left for make up days, vacation, family, life, homeschooling, etc. after you've completed your required homeschool days for the state.
Why do homeschoolers stress over "getting school" done when we can have double the amount of days simply by homeschooling year round?
As a year round homeschooler you don't have to be concerned with taking a day off for sanity's sake, sick days or to enjoy an expected day off with dad! The flexibility that a year round homeschool schedule provides will allow you and your children to enjoy living life and homeschooling throughout the year!
Make up days aren't required as a year round homeschooler because we don't need them. We have 365 days to homeschool, that's double the typical state homeschool requirement, so the stress of coming up with make up days is is eliminated.
[Tweet "Make up days aren't required as a year round homeschooler. #YRHTips"]
Year round homeschoolers typically complete MORE homeschool days than are required because they spread their homeschool schedules out over the course of 365 days. So, our kids learn more, progress farther and complete more schoolwork than a typical 9 month homeschooler. Often year round homeschool kids don't even realize they have more school days than most kids because they have less schoolwork planned on their homeschool days since their homeschool schedule is spread out over a full year.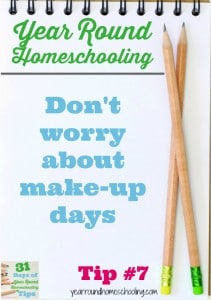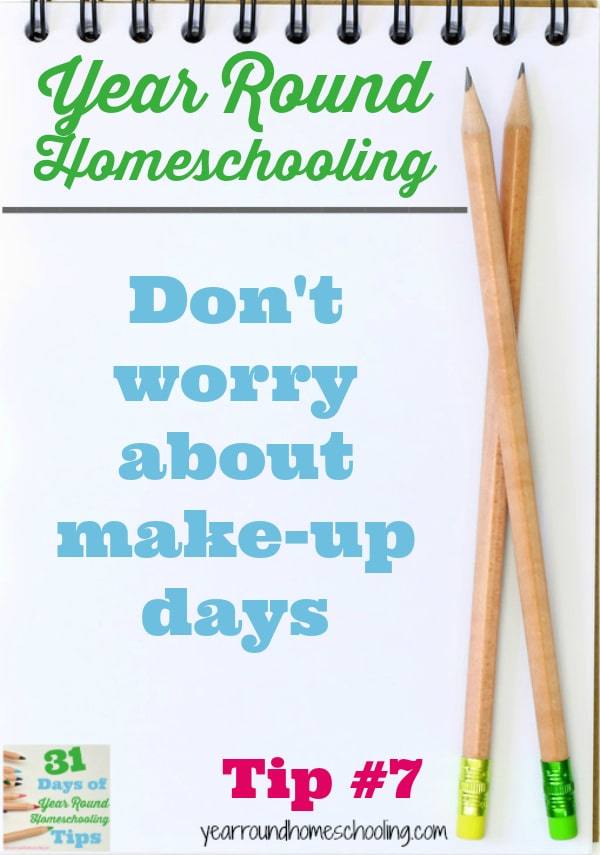 Being able to homeschool our children is a blessing to us, our children and our families. Following a year round homeschooling schedule gives us more opportunities for family time which adds to the blessing that homeschooling is to our families!

You can find the rest of the Year Round Homeschooling Tips from this 31 day series here.
Are you looking for more tips beside what is being shared in the 31 Days of Homeschooling Tips for Moms?
I would love to invite you the community inspired by this series, as we strive to inspire, encourage and empower our readers in everything homeschooling.