One simple action recharged my homeschool. It was October 25 and we still hadn't really started school. After an emotional move across the state, I wasn't in a good place spiritually or emotionally.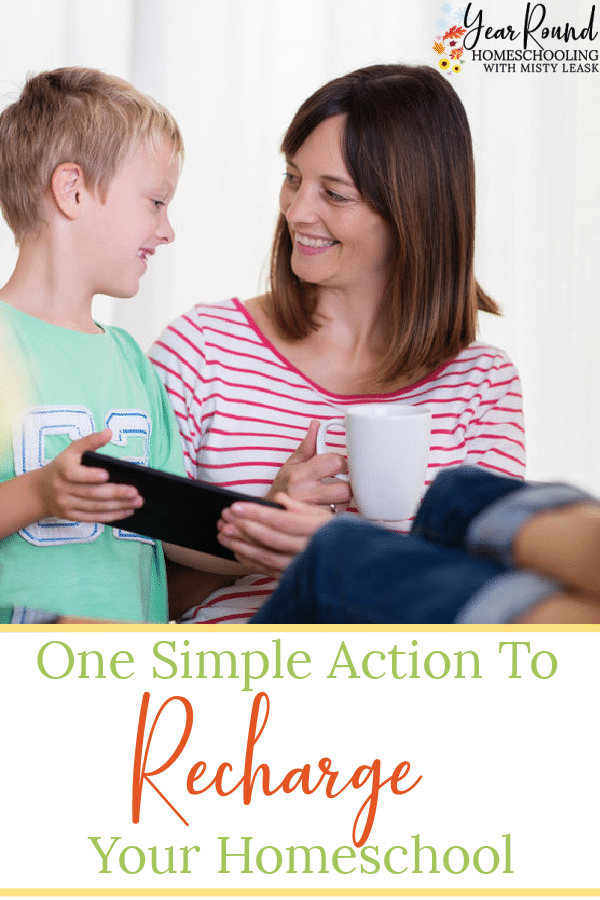 Life was not going the way I expected and my kids certainly weren't getting much schooling done. I was at the end of my rope, and I was barely hanging on. I didn't have the energy to do science experiments and historical reenactments. Yet, my kids needed some kind of schooling this year.
So, I started reading a book with them. It seemed so simple. I could at least do that. Read one chapter a day out loud to my kids.
That one simple action recharged my homeschool. Those few moments with my kids each day became the catalyst that reenergized me and recharged my homeschool that year. I've also found reading aloud to be very effective in rebooting a homeschool day that's on the rocks, too.
You simply just stop everything else and read for a while. You might find that you face the rest of the day much more successfully after reading aloud.
If you need your homeschool recharged I believe there are several reasons reading aloud can recharge and renew a homeschool day! (or month!)
6 Ways Reading Aloud Can Recharge Your Homeschool
It helps you connect with your kids
In my sadness and despair, I had sort of neglected my relationship with my kids. I was focusing on my problems and not on their needs and anxieties. Even though they were still getting bathed and fed, I was distracted by other things too often.
Sitting down to read together helped me to focus solely on them for a few minutes at a time and helped us enjoy some time together. It became a time when we were able to connect in a way that we all sorely needed.
You get lost in a story
Someone else's story. Reading together gets you inside a character's world and you can share experiences, joys and disappointments with the character and the other readers. It gets your mind off of your own problems and you can laugh at the troubles facing the character.
Does anyone remember Anne Shirley's green hair? (If you don't, run… don't walk, to your nearest library or bookstore and get Anne of Green Gables! You are in for a treat!)
It starts a conversation
Some of my favorite conversations are about books that we have read or listened to together. There is just something about shared stories that draw people closer together.
I love having conversations with my kids about The Lion, the Witch, and the Wardrobe, and how much Aslan is like Jesus because he died in Edmund's place and that's what Jesus did for us. I love talking to them about silversmithing and how devastating war is while reading Johnny Tremain. I even enjoy the conversations about seemingly silly picture books.
That's the thing. It is conversation and conversation is a good thing.
It reminds you that learning is fun
I don't know about you, but I consider reading a book to be one of the most enjoyable things I could do. When I share reading with my kids, it makes them realize that learning can be fun.
I think you can learn something from almost any book you read. Even when it seems like it is just a story, you are learning about life from the character's actions or about new places and times.
Take, for instance, The Trumpet of the Swan. This was one of my favorite read-alouds last year. We learned so much about nature, conservation, swans and their migration patterns, and countless other lessons by reading the shared story of a swan who couldn't trumpet. We didn't do any in-depth unit studies or language arts discussions, but my kids still talk about trumpeter swans and the adventures that we read together.
Learning doesn't have to happen only from a textbook. In fact, I would venture to say, it is the worst way to learn, with dry and boring facts presented all in sequential order. Just pick a real book. Any book. Then read it. I'd say you will learn something!
It fuels their desire to read
I have two reluctant readers. I don't really know how it happened, since I can't remember a time when I couldn't read. I have been a voracious reader since I was a small child and still read several books a week for my own pleasure.
Yet, I have noticed that both of my reluctant readers love to be read to (and they love to listen to audiobooks, too.) Every time I pick up a new book, it reminds them that reading is fun!
Reading aloud helps them connect with characters that they wouldn't otherwise get to know because they wouldn't have picked up the book on their own. Sometimes it fuels the desire to read another book in the series, or another book about a dog and a boy. Then they are off… reading about other worlds and people all by themselves!
You can refresh your homeschool by reading together
No matter where you are in your homeschool right now, reading aloud can be an exciting, enjoyable way to refresh. If you are bogged down in seemingly endless textbooks or struggling to get your mojo back after the holidays, just sit down and read a book together. I promise you will be glad you did.
Who knows, you might be like me and find that your homeschool has been recharged which has helped you feel more ready to tackle the rest when you are done!
Has reading aloud ever recharged your homeschool? If so, share your favorite read-alouds in the comments below!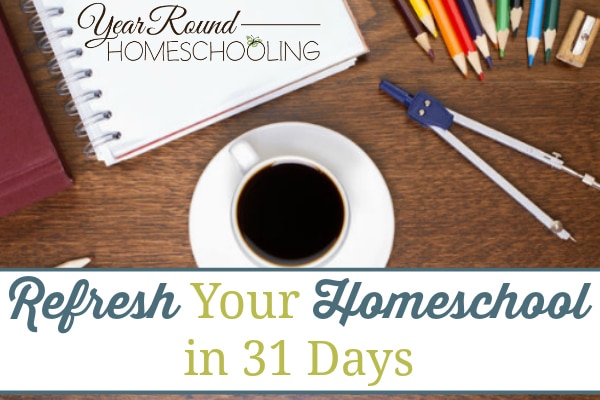 ---
Amy is a second-generation homeschooling momma, with three kiddos ranging in age from 8 to 14. She is a passionate lover of good books and is working hard to pass that obsession on to her children. She lives in Wild, Wonderful West Virginia with her kids and one dog, but some days she wants to move to Australia.