With the holidays behind us and a brand new year before us, this is a great time to take a step back and objectively look at the routines that shape our days.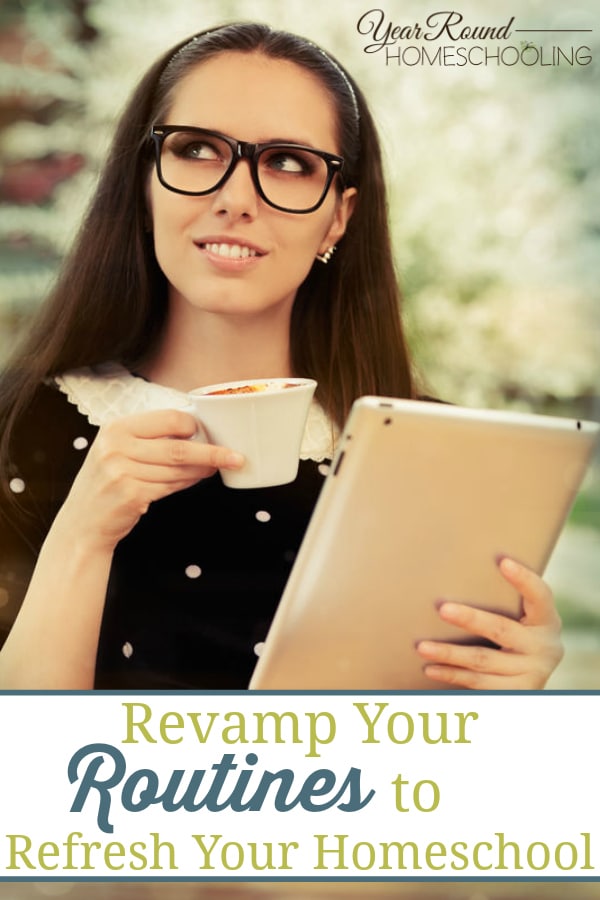 Do you have a daily routine? Maybe it is not chiseled in stone or painted on a plaque. It may not even be written down for all to see and is instead just a gentle ebb and flow to your days. Whatever your personal style, rigid to relaxed, the regularity of reoccurring actions or events, that create our routines can help determine our successes or our shortcomings.
Evaluate Your Routines
Take a look at your days.
What is working for you? What is not working? Is there an area where your old routines are no longer serving you? Has your toddler stopped napping and you no longer have that 2 hour stretch to focus more intently with your older children on their schoolwork. You've been muddling through, but, try as you might, you just can't seem to get back into a good rhythm now.  What changes could you make that would bring back some peace & order to this time? Maybe a quiet playtime for your toddler, while an audiobook plays, an independent educational game, or construction toy, could give you back part of that time, to focus with your older children.
Consider your household routines.
Are there changes that could be made in this area that will not only give you a better flow to your days, but also help you tame the laundry monster? Are there parts of your cleaning routine that could be carried out by your children? In our home, tending to household responsibilities has become a time for me to connect, one on one, with my children, while training them in areas of household management.
Think about your daily habits.
With the holidays have you slipped into habits such as sleeping late, using more electronics, or becoming lax in your cleaning routines? If so, you may need to banish a thing or two in order to have more productive days. Sometimes, just the simple act of lingering too long over morning coffee while browsing Facebook can be enough to derail our days before they've barely gotten started.
Are your days are being thrown off course because they're just too full. Do you have so many commitments outside the home that it is causing you stress and the frustration of falling behind in other areas? Even well meaning, good, activities may need to be reevaluated if they're no longer a good fit for your daily schedule. Are there some "good" activities that need to be cut from your routines during this season of life, or permanently?
For example, a couple of years ago our family participated in a local homeschool co-op, that met once a week for academic classes. It was great! We all loved the classes, the interaction and the new friendships. What we didn't love, was the stress and frustration of fitting these classes into a schedule that we had little control over. We've always been a very relaxed, eclectic, homeschooling family, but the co-op experience forced us to follow the teachers' schedules, of what material was covered, when and how much time should be devoted to any particular topic. Plus, with 3 children in multiple classes, it multiplied the homework, projects and deadlines. Yet, we were used to learning together, running down rabbit trails and exploring more interesting topics in depth. At the end of that school year our sentiments were all pretty much the same, "That was great! But let's not do it again!!" That year taught us a great many lessons, mostly about ourselves, but also made us acutely aware of how much we all appreciated our usual, relaxed, year round homeschooling schedule!
Examine your personal time.
How about your own hobbies and time for rest and rejuvenation as a homeschooling mom? We often hear the phrase, "You can't pour out from an empty cup." It is true! You can't give more of yourself to others, if you are completely empty and not being refreshed yourself. What are you doing, daily, to fill your "cup", Mom? If your answer to this question is, "Nothing", then this is an area that certainly needs a revamp! Each of us needs a little bit of time each day to do something that brings us joy and "fills our cup". Maybe this is time in God's word, journaling, exercising, talking with a friend on the phone, watching a favorite TV show with your spouse, or playing or listening to music (that's not chosen by someone under the age of 18!)
So, before more of the new year has passed by take a step back and give each of your routines a good look. Jot down some notes as you go through the next 2-3 days and look for areas where you are struggling. Think through what is causing your struggles and come up with a few ways that you can refresh those areas.
Remember, if your routines are not working for you, then they are working against you. Blessings to you in this new year and may it be a productive one!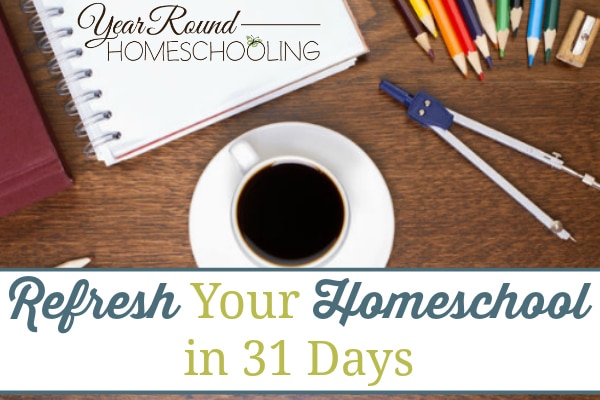 ---
DeAnn Shannon is a lay- youth pastor & mom of 4, who has been homeschooling  for 16 years.  She has recently started her new blog, More Than "Just a Mom", where she provides encouragement for mothers who are feeling lost in their role as a mom.