Does your homeschool science class need a change? Perhaps your kids love science and hands-on learning? This Science Experiment Challenge provides fun ways to learn about science — through experience — which is how kids learn best!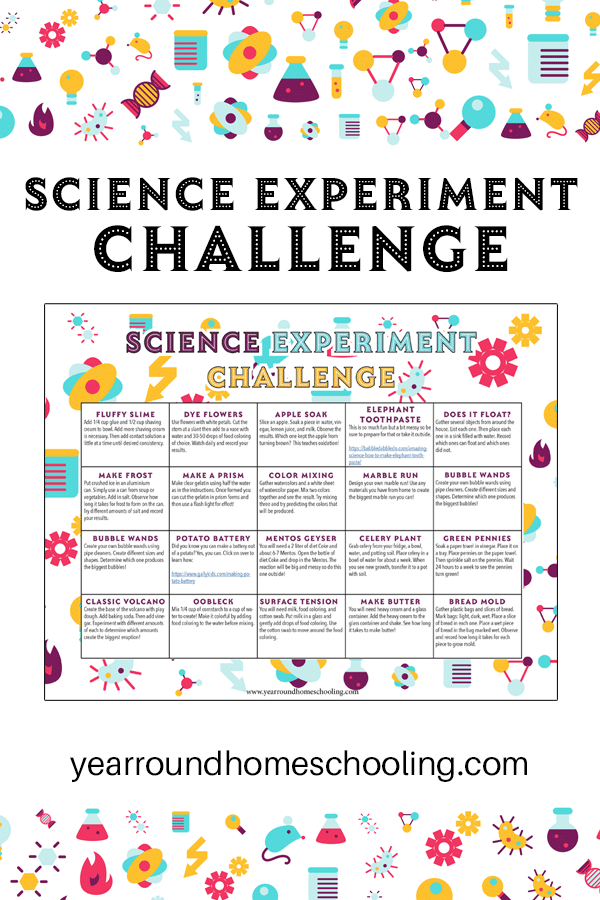 I have very fond memories of the science experiments that my mother did with my brothers and me growing up. That's probably why I enjoyed doing them with my children. Although, being responsible for the clean up of science experiments as a homeschool mom was definitely something I didn't remember.
Science can be a daunting subject to teach. Thankfully, science experiments make it a lot more fun! Finding ways to make science come to life for your kids is easy when you add experiments into the mix.
There are a lot of science experiment kits out there and they are great for high school, but aren't great for frugal homeschooling. Before my children began high school science, I used these books for science experiments. My mom used them when I was growing up as well, almost every item in all the science experiments can be found in your home!
Get ready to have science fun with your kids! Your children will learn how to make a volcano, elephant toothpaste, butter, slime and much more through this Science Experiment Challenge Calendar.
Be sure to grab a copy of these Science Experiment Worksheets for your kids to complete as they work through this challenge. If you complete the challenge and your kids are begging for more, check out these 100+ Science Experiments for your homeschool science class!
For even more monthly challenges to use throughout the coming year, be sure to check out my store page here.