Homeschooling through the long winter months can seem tedious and boring, but when you take time to be creative and come up with ways to make learning fun your kids will actually enjoy passing the time quickly! The snow provides a lot of fun and inspiration for homeschooling through the winter and if you bring it indoors into your lesson planning your kids will have a blast learning all winter long! These Snow Fun Spelling and Vocabulary Worksheets are a great way to make subjects that your kids may see as boring more fun!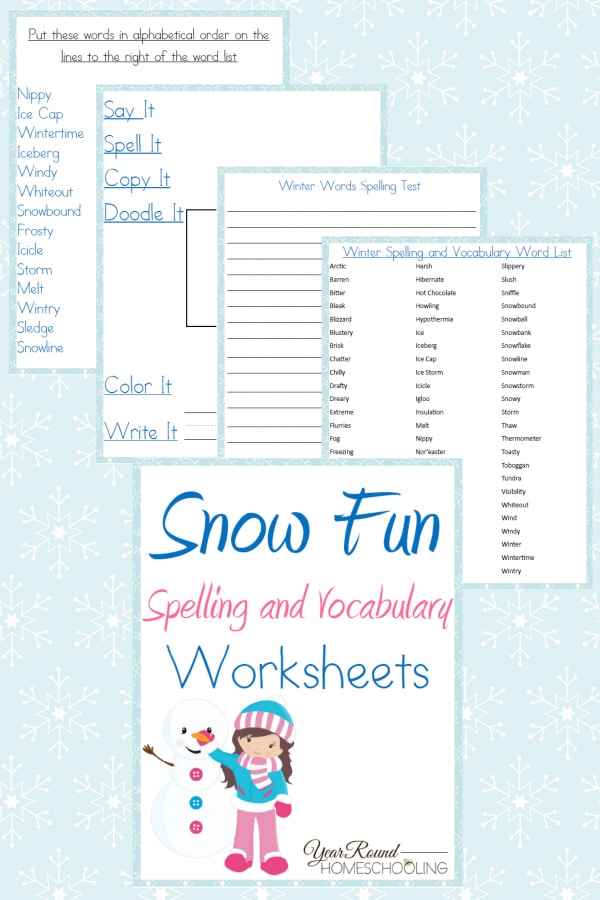 Inside you'll find a winter words spelling/vocabulary list, fun spelling pages for your little learners, spelling test pages, alphabetizing activities for younger and older students and fun vocabulary worksheets!
These Snow Fun Spelling and Vocabulary Worksheets can be found in our Snow Fun Activity Pack! This pack has over 275 pages of snow fun activities! 
Inside our Snow Fun Activity Pack you'll find over 275 pages including Penmanship and Notebooking Pages for PreK through Middle School, spelling and vocabulary worksheets, matching games, bingo cards and coloring pages!