After the long days of winter, spring brings forth everything anew! The rainy days aren't dreary when you keep in mind that flowers, ducklings, bees and butterflies are just around the bend. Without the rain, we wouldn't have the beauty of spring days that we love. Rainbows and the promise they remind us of are only possible through the beauty of rain. The rainy days might keep your kids inside a bit more than summer days. However, you can use those days to encourage them to work on their handwriting, writing or to create beautiful works of art! This Spring Copywork is filled with Scripture, Poetry and Quotes that will inspire your children to enjoy the new season.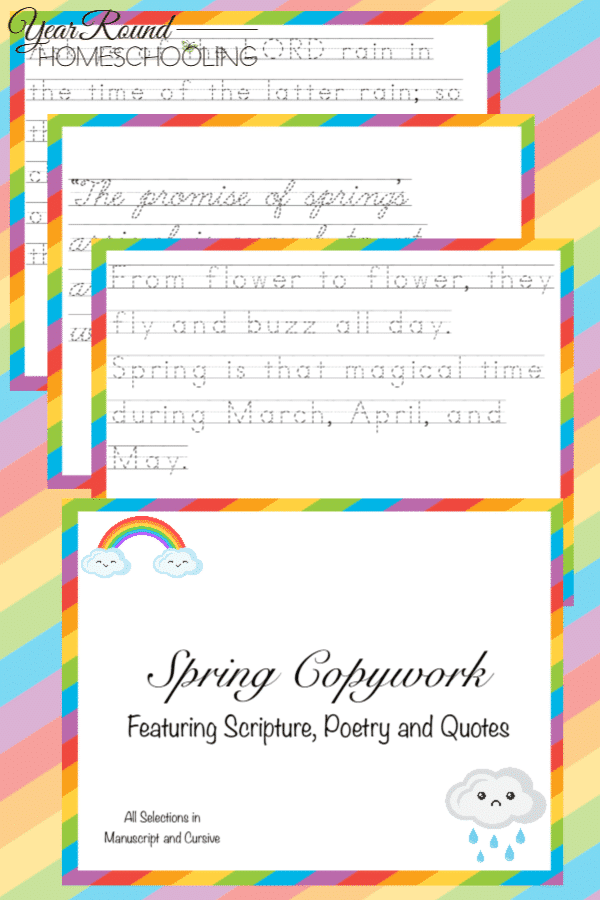 Inside you'll find a selection of KJV scriptures, poems and quotes (in both manuscript and cursive copywork) that all embrace the spring season!

The following two tabs change content below.
Misty Leask
Misty is a Daughter of THE King, Texas girl always, Navy brat at heart, loving Fisherman's wife, blessed mother of 2 and founder of Year Round Homeschooling. She is passionate about being real throughout all of life's struggles, successes and dreams. Her heart is full of ideas and passions, but the hours in her day never multiply to get it all done. Misty loves writing and reading in her spare time. Music and photography are favorite past times of hers as well. You can find her on
Facebook
,
Twitter
,
Instagram
and
Pinterest
Latest posts by Misty Leask (see all)