Winter is a long season for some, while others wish the long, cold days would last much longer. Whether you love wintertime or not, some version of the winter season will come your way. The beauty of snowflakes, the fresh, crisp air and the extra nighttime hours are my favorite things about winter. Finding ways to keep your kids busy throughout the winter months can be challenging, but not impossible. My children and I have movie nights and spend a lot of time reading during the winter. It is also a great time to add more handwriting practice to your children's homeschool days and you can make it more fun by using themed copywork resources like this Winter Copywork that features Scripture, Poetry and Quotes!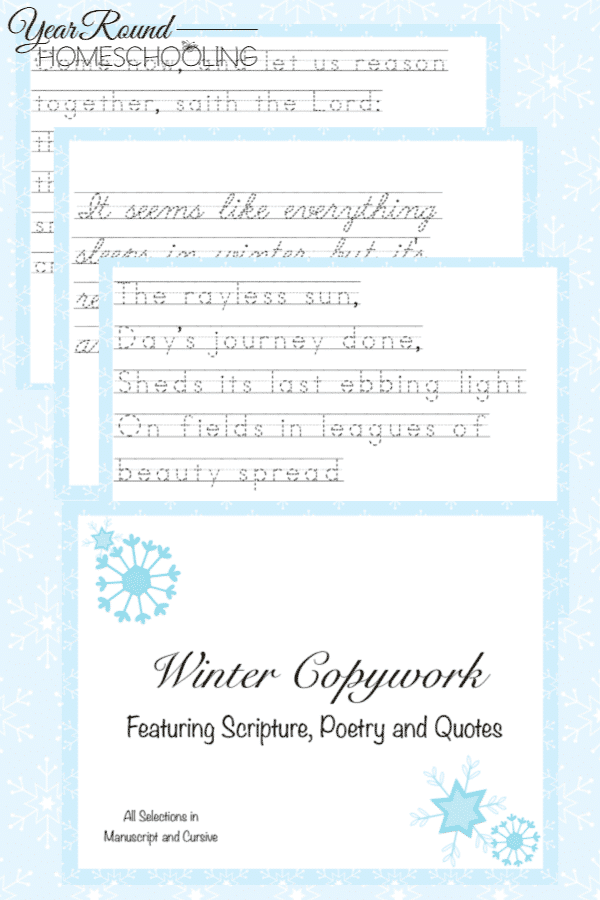 Inside you'll find a selection of KJV scriptures, poems and quotes (in both manuscript and cursive copywork) that all embrace the winter season!

The following two tabs change content below.
Misty Leask
Misty is a Daughter of THE King, Texas girl always, Navy brat at heart, loving Fisherman's wife, blessed mother of 2 and founder of Year Round Homeschooling. She is passionate about being real throughout all of life's struggles, successes and dreams. Her heart is full of ideas and passions, but the hours in her day never multiply to get it all done. Misty loves writing and reading in her spare time. Music and photography are favorite past times of hers as well. You can find her on
Facebook
,
Twitter
,
Instagram
and
Pinterest
Latest posts by Misty Leask (see all)