As I've mentioned before we are a Star Wars fan family, that is why you'll find so many fun Star Wars printables and other resources here. I create them for my kids to use and share them with you!
If you were to visit our home you would likely hear many quotes from the Star Wars movies during your stay. Since my children are often heard quoting Yoda and Han Solo, I decided that the next Star Wars printable that I would create would feature quotes from the movies!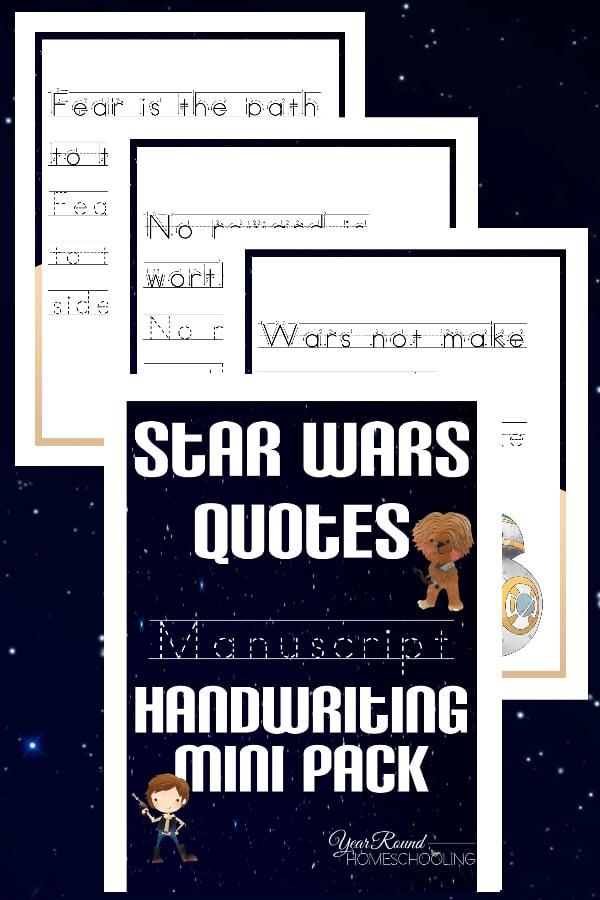 Inside this fun Star Wars Quotes Manuscript Handwriting Mini Pack you'll find 10 quotes from Star Wars movies for your kids to practice their handwriting! Each quote is featured in both a practice font and a teaching font to help you student form their letters properly.
To receive this Star Wars Quotes Manuscript Handwriting Mini Pack you MUST sign up to receive our emails below.
Be sure to check your spam for the freebie. It will be coming from [email protected]
If you're viewing this post in your email, please click here to access the download form.
For even more Star Wars manuscript handwriting fun get the full Star Wars Quotes Manuscript Handwriting Pack featuring 100 quotes from your favorite Star Wars characters!