As each new homeschool year approaches plans are made and goals are set. What we tend to forget is that we're making plans and goals without being able to see what lies ahead.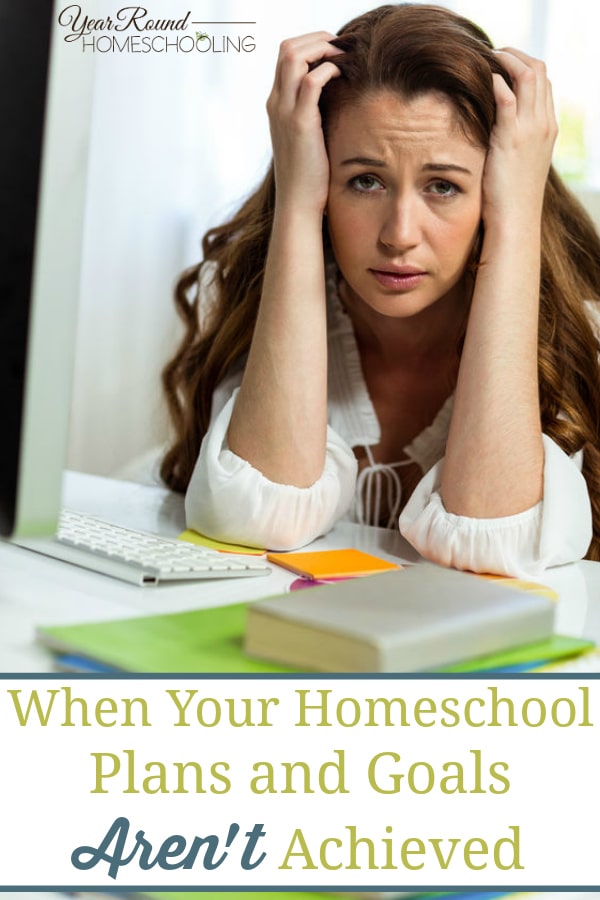 At the end of the year we need to ensure that we take time to reflect and consider all of the challenges we faced throughout the homeschool year. By doing so, often the guilt of not achieving some of our earlier set goals will disappear when we recollect all that life put us through during the course of the year.
As I am spending time this summer looking at what we didn't accomplish in our homeschool this past year, I am not disappointed, upset or angry. Instead each day I'm reminded that tragedy struck in the midst of our homeschool year and we faced an incredibly busy year for our family business.
Over the years I've learned that while I make plans on paper today, I must remember that God's plans have been in place from the beginning of time. 
He knew all that we would face this year, what my children needed to learn and how much of His strength that I would need to merely put one foot in front of the other.
I've always believed that education is not found in textbooks alone. Life provides countless opportunities for us to learn from and those lessons simply can not be planned out. 
I'll be spending the new couple of weeks preparing myself for the upcoming homeschool year. The hardest part for me is going to be closing the chapter of the 2016-2017 homeschool year. Doing so requires yet another first, stepping into a new homeschool year and making plans for it without chatting about it all with my bestie. The thought of even beginning the process makes my heart ache and my eyes weep. However, I'm reminded that He goes before me, so He knows the exact steps that I have to take.
As homeschool moms we need to recognize that when God gives us just enough light for the step we're on, it is often a gift. This gift allows us the opportunity to keep from becoming overwhelmed and frustrated because we only have enough light to see a single moment. We do not have to prepare for the next challenge coming our way because He has not allowed us to see it yet. We must learn to live, love and grow in each moment. 
We also must not forget that we never walk alone. If God has called us to homeschool our children then He will walk each step of the way with us. As struggles and challenges reveal themselves throughout our homeschool year we must remember that we are not on our own, God is walking side by side with us all along the way.
No matter what last year's homeschool year looked like or how far behind (or ahead!) of your goals you are, this is a new year. You are in a new place. Your children have learned and grown more than you could ever have planned out because God brought y'all through what He knew each of you needed to face to raise up the man/woman He designed for each of you to be.
Do not regret the lessons you didn't teach or the boxes that remain unchecked. Reflect on all God has done in and through each of you this year. Thank Him for knowing and providing the opportunities each of you needed to grow.
Look forward to what lies ahead of you, make plans knowing God's plan will always come to pass no matter what the year brings. 
What plans did God have for your family to learn this past homeschool year?