As a year round homeschool mom I always try to incorporate holidays into our homeschooling journey each year. Although, there are a few holidays that we do not celebrate and others that we don't celebrate in the traditional ways. One of which is Easter. While we do celebrate the Easter holiday, you won't find any bunnies, chicks or eggs as part of our celebration. In our home, we learn about the Easter holiday in our homeschool and celebrate the resurrection of Christ because that is the real Easter story.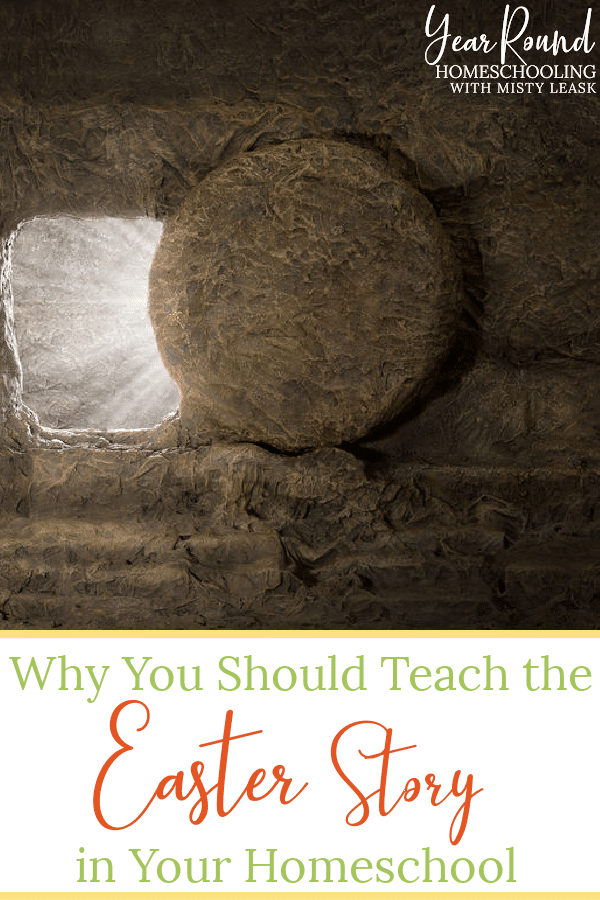 I love teaching my children about the different holidays that we celebrate as part of our homeschool. I believe it is important for them to understand the holidays themselves, why we celebrate them and how each part of the celebration relates to the holiday as well. So, if there is a holiday that has celebrations that don't have a place in the history of the holiday, then we don't take part in that portion of the celebration. This is also why you won't find any bunny, chicks or egg-themed Easter resources in our homeschool or here on my blog.
You may not have the same beliefs that I do in regards to teaching or celebrating holidays in your home and that is ok. However, I would like to share a few reasons why I believe it is important you teach your kids the truth about Easter in your homeschool.
6 Reasons You Need to Teach the Easter Story in Your Homeschool
Your children need to know the history of the Easter holiday
They need to know the true story of Easter
Kids need to be reminded that Jesus is alive
Fun celebrations need to be separated from the facts
Your children need to know the Easter story in order to share it with others
The Bible and your faith need to be an intricate part of your homeschooling
Just as there isn't a right or wrong way to homeschool, there isn't a wrong way to teach your kids the Easter story in your homeschool. The important part is that you do it. If you're not sure how to get started with teaching the Easter story as part of your homeschooling journey, here are a few ideas!
How to Teach the Easter Story in Your Homeschool
The Easter story is more than just a time period in history, it is an essential part of our Christian faith. It is our responsibility as Christian parents that we teach our children the real meaning of the Easter holiday. If you've never taught your kids about Easter, I encourage you to do so today. We must share the important truths of our beliefs and faith with our children in order for them to become their own!
How do you teach your kids about the story of Easter as part of your homeschooling journey?