The busy holiday season is coming up making it even more important to plan ahead. This November Homeschool Planning Pack will make it easier for you!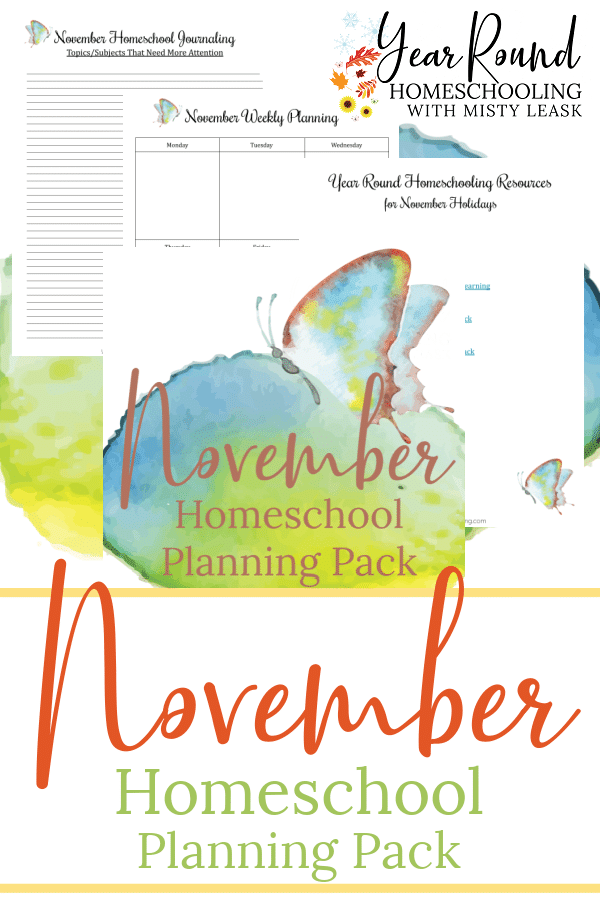 While many do not enjoy the longer nights that fall and winter bring, that is probably my favorite part of the two seasons.
I use the extra dark hours to spend time with my family, as well as take care of my home and for self-care.
For homeschooling, we tend to cover a lot of literature, writing and life skills during the month of November as we embrace the extra time indoors and our family business is closed.
Living in the North Woods of Maine, November is when we typically see our first snow. It doesn't usually last long, but snow makes its first appearance before Thanksgiving arrives.
For me, the Texas girl, that means my outdoor time begins to be limited and I relish the warmth that our pellet stove provides inside.
My kids and I tend to do a lot of baking, reading and drinking hot tea while streaming our favorite shows for fun this time of year. All of which we don't get much of an opportunity to do the rest of the year.
Whether you're embracing a quieter season this month like we are or are gearing up for the craziness of the holidays, I hope that this planning pack will make your November homeschooling easier and more fun!
Inside this November Homeschool Planning Pack, you'll find fun holiday learning resources, weekly and monthly planning pages and homeschool journaling pages for you! This resource will make planning homeschool days in November easy for you and fun for your kids.