When it comes to encouraging children to be active members in their education and pursue their own interests; environment is key. You want to create an environment that allows them to explore and one that encourages learning. A child can only pursue their interest if the tools are there that allows them to do this. In our home that means three main things.
1. Lots of trips to the library
2. Keeping supplies like binoculars, magnifying glasses, etc. easily accessible
3. Parents willing to answer lots of questions and if need be Google (if child is to young to do internet research on their own)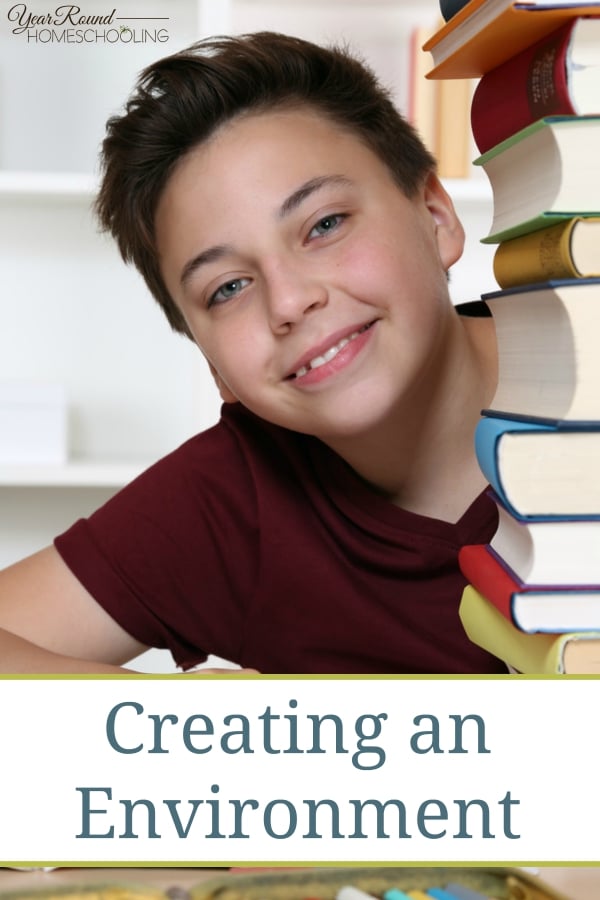 Tips to Creating an Environment of Learning:
We are huge library fans in our home. When we get new orders to go somewhere one of the first things I research about our new home are the libraries in the area. We tend to visit the library once a week. We all have our own cards in order to increase the number of books we can check out. For a while I was the only one who had a card, but it was getting to the point that I wasn't able to check out any books for myself because the kids were maxing out our library card! In order to prevent misplacing books and racking up large overage fees I do two things. I scan the list of checked out books into my computer that way the list can't get lost. Secondly, we have a box that all library books belong in. I expect my children to return the books to the box when they are done using them.
There are supplies that encourage learning that are critical as well. I keep several well stocked kits available for my children to use whenever they would like. We have a giant craft box that is filled with a variety of crafting supplies- paper, pompoms, feathers, glue, markers, etc. A complete list can be found here. We also have nature study bags that can be grabbed and used whenever the desire to go on a nature walk or go check out the bugs in the backyard strikes. Our nature bags contain a sketch book, colored pencils, binoculars and a magnifying glass. For field guides I have the Audubon apps loaded on the family tablet. Lastly, I try to make sure I keep basic science experiment supplies handy. This is probably the hardest one to keep well supplied but I try to keep basic things like safety gear, containers, etc. available. My sons are young, but we will also be adding a microscope to our supplies soon.
Lastly, one of the most important items to our child-led homeschool is internet access. We use Google a lot. It isn't unusual for one of my sons to ask some truly random question like, "Mommy, what does a camel sound like." When they ask questions like that we go to Google and look it up. Sometimes, we will look up the answer and be done. Other times that one question leads to an hour of internet research and a trip to the library to get books on the subject. Right, now my boys (6 and 4) are too young to effectively use the internet to research on their own. However, as they get older I fully intend to teach them to utilize it on their own to research.
Now that I have shared what I do to help create and environment for learning I would like to hear from you. What do you do to encourage your children to learn and explore their interest. What do you do to help your children be able to discover new interest?