Easter is just around the corner. Do your students know the real story of Easter? Is the abundance of bunnies, eggs and chicks overcrowding the beautiful message that He is risen? I encourage you to take time to ensure that your children know without a doubt what the Easter holiday is all about today. You can get started easily using this Easter Scripture Manuscript Handwriting Pack!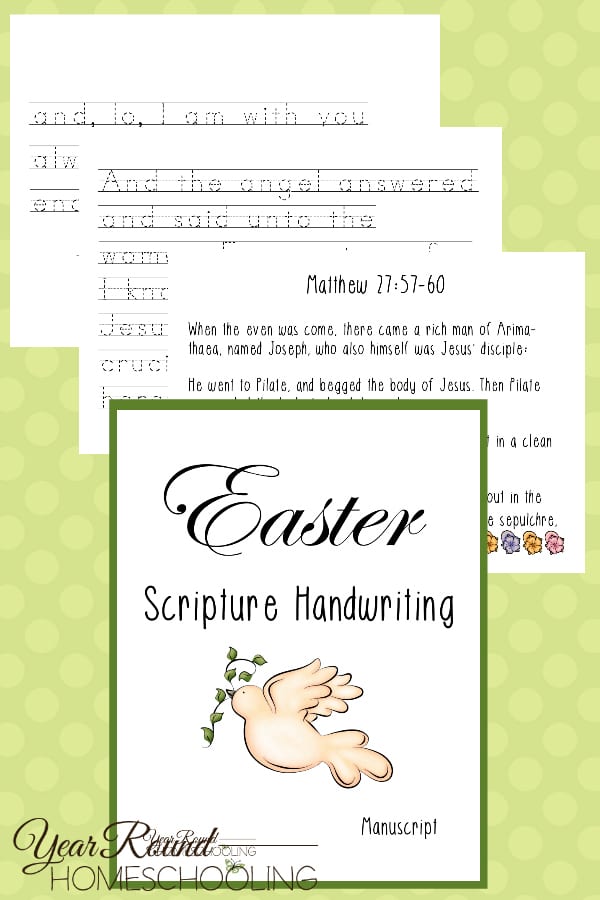 Over the years I've learned that the best way to encourage my children to work on their handwriting is by giving them activities that teach them something important. That's why I began creating copywork resources for you to use in your homeschool.
This pack provides a simple way to teach them the true meaning of Easter while they work on their handwriting skills. It is essential that you include Bible class in your homeschool. Your children will need to know God's Word and have it hidden in their hearts when they are on their own. Ensure that they have the Biblical tools they will need by teaching them from the Bible.
If you have younger students, you'll find a PreK-Kindergarten Easter Scripture Handwriting Pack for them here and an Easter Scripture Cursive Handwriting Pack for your older students here.