Seamless year round homeschooling is one of my favorite aspects of a year round homeschooling schedule. As a year round homeschooler there isn't a 3 month break at anytime (unless you need it occasionally), so there is no big lapse in time between one year's homeschool curriculum and the next.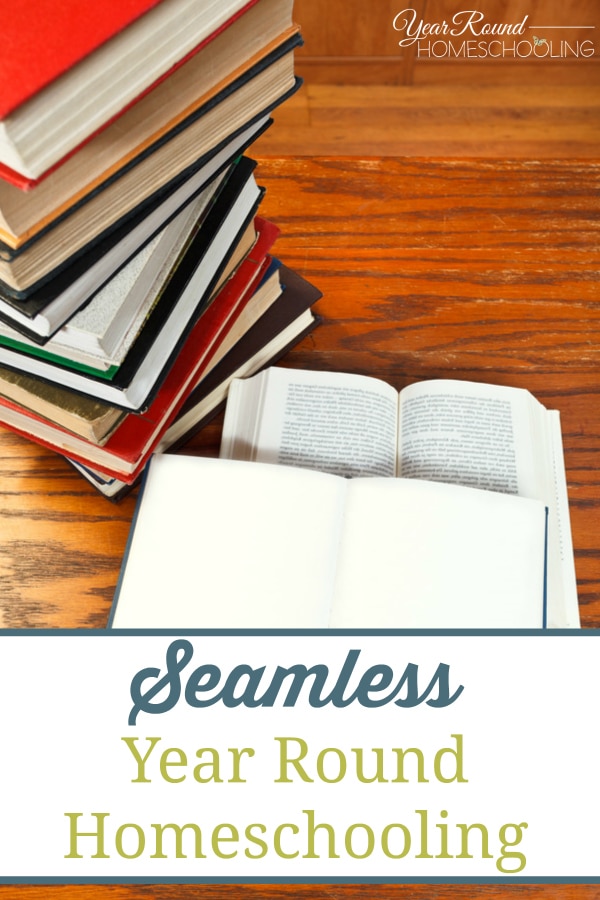 Homeschoolers love books and when next year's homeschool curriculum comes in, both mom and the kids can't wait to dive in. The problem is that with a 9 month homeschool schedule you often have to wait 2-3 months before you can use your new purchases. As a year round homeschooler, there doesn't have to be a waiting period, you can have a seamless homeschool!
Seamless year round homeschooling means that when your child finishes one book they just move onto the next one! They don't have to wait until next year to begin, they can start their new book tomorrow…or even today if they wanted to!
When we make our children have to wait to use their new homeschool books, we often cause them to lose their excitement to learn. Who really wants to wait 2-3 months to use their new science or literature curriculum?
[Tweet "Don't wait until next year to use your new #homeschool curriculum. #YRHTips"]
As homeschool moms we long for our children to be inspired and excited to learn, but sometimes we take away the very things we long to see in them because it doesn't "fit" our plan or schedule. It is so important to be flexible and willing to change our homeschool plans or schedule to encourage our children to learn!
By allowing our children to begin the "next year's" homeschool curriculum as soon as they've finished the books they're in now, we're giving them the keys to their own education. When our kids begin a new homeschool curriculum ahead of time, they're pushing themselves farther in their own education and will likely end up ahead of where they "should be" in school. The best part is, we didn't have to push them, they pursued it on their own.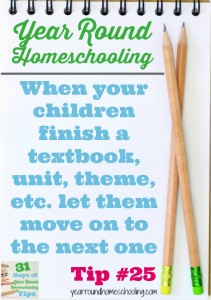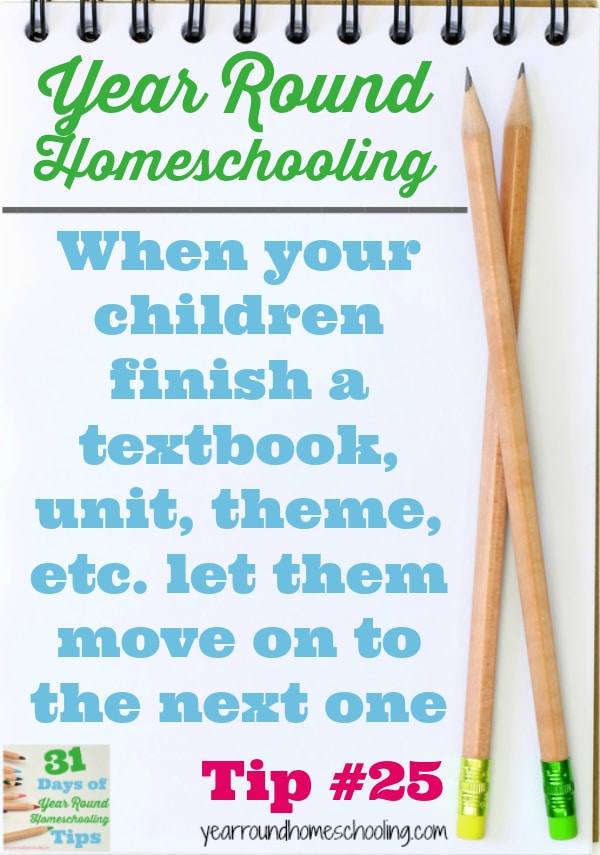 Seamless year round homeschooling is the best way to encourage and inspire your children to love learning. When we try to hold them back when they're ready to learn, we're failing as a homeschool mom. We need to be willing to hand over whatever subject, topic or book they want to use next (or even take rabbit trails during subjects/topics) and watch them thrive as they experience a love of learning!

You can find the rest of the Year Round Homeschooling Tips from this 31 day series here.
Are you looking for more tips beside what is being shared in the 31 Days of Homeschooling Tips for Moms?
I would love to invite you the community inspired by this series, as we strive to inspire, encourage and empower our readers in everything homeschooling.