As a year round homeschooler your kids' birthdays will at some point, and more often than not, fall on a school day. This is a great opportunity for you to make their birthday a bit more special and different than that of other children.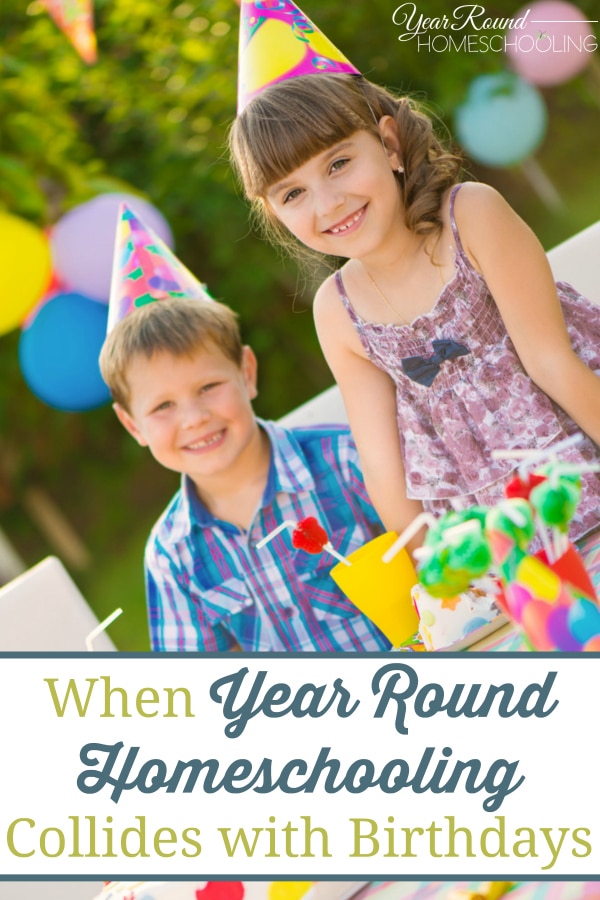 One of my kids' favorite things about following a year round homeschooling schedule is that they always get their birthdays off from school. It seems really simple, but it means a lot to them every year. We don't do anything outlandish to celebrate their birthdays, but they enjoy the fact that no matter what day their birthday falls on they will have the day off from school.
Sometimes it is the simplest things that we do that makes a huge difference in our child's day. By giving them their birthday off from homeschooling, we'll be encouraging a positive homeschool experience because we're showing that they are more important than a day of schoolwork.
If your child likes to be involved in some of the activities behind their birthday festivities, there are easy ways to add everyday homeschool moments without them really even noticing! During these times you'll also be having one-on-one time with them and building a stronger relationship too.
Birthday Cake – Math and Science
Birthday Party Invitations – Language Arts and Penmanship
Birthday Party Games – Science, Arts & Craft, etc. (Depending on games selected)
[Tweet "Make your #kids #birthday a big hit by taking the day off from #homeschooling. #YRHTips "]
These are just a few options to integrate a bit of homeschooling on your child's birthday, if you so choose. Whether you choose to take the entire day off from homeschooling or add in a bit of learning with on-on-one time, you'll be making their birthday special!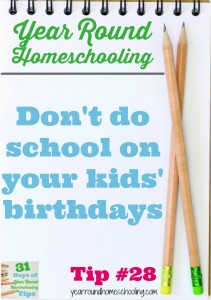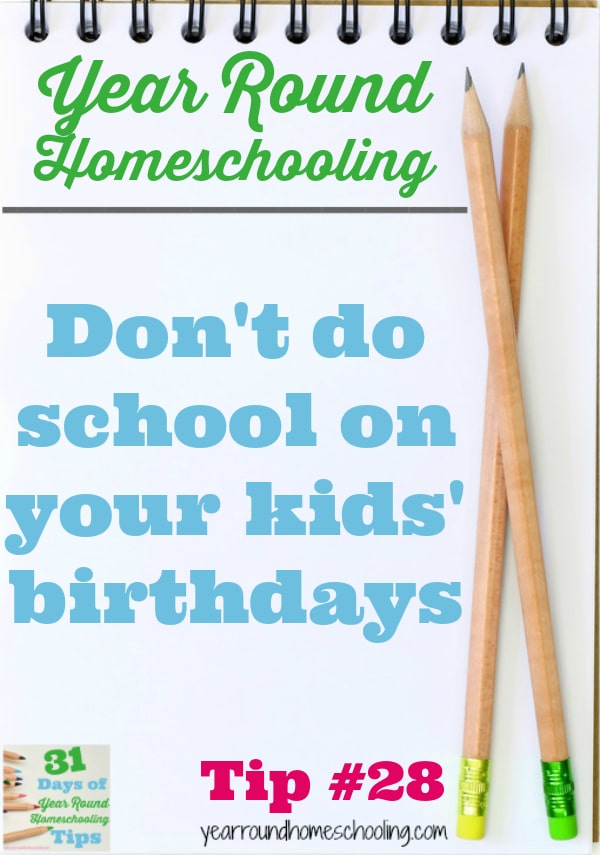 As a year round homeschooler it is easy to let your kids skip school for their birthdays! It'll make memories that they'll never forget, so don't miss out on the opportunity to make birthday memories together that will last a lifetime!

You can find the rest of the Year Round Homeschooling Tips from this 31 day series here.
Are you looking for more tips beside what is being shared in the 31 Days of Homeschooling Tips for Moms?
I would love to invite you the community inspired by this series, as we strive to inspire, encourage and empower our readers in everything homeschooling.