This February Homeschool Planning Pack will help you make plans – both fun and educational for you and your kids to enjoy!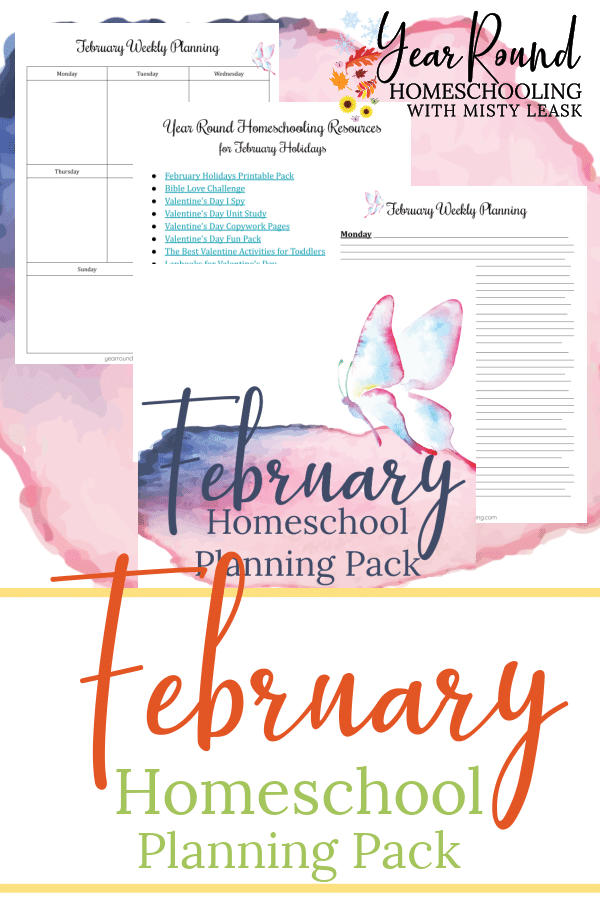 The more fun you make your child's education, the more they will enjoy it and learn to love learning.
That doesn't mean that there won't be any subjects that they don't enjoy or difficult days along the way. Those are teachable moments that you can incorporate into your homeschooling journey.
The beauty of homeschooling is the freedom that it provides both you and your children.
One of the easiest ways that I've found to add fun to our homeschool over the years is to incorporate holidays into my planning.
While there aren't always holidays like Valentine's Day and Presidents' Day to celebrate every month, there are plenty of fun, silly holidays to celebrate.
For instance, in the month of February, you can have ice cream for breakfast on February 6th or celebrate polar bears on February 27th.
I love monthly homeschool planning. I find that planning monthly makes it easy to keep things organized and change things up to keep learning fun.
It also makes it easy to track my children's learning by completing monthly check-ups.
Not sure how to get started with planning fun activities monthly? I've done the work for you!
This February Homeschool Planning Pack was designed with the busy homeschool mom in mind.
You don't have to find ideas for fun activities to add to your homeschool weekly because I already have.
Inside you'll find fun holiday learning resources, weekly and monthly planning pages and homeschool journaling pages for you!