As a homeschool mom who loves to plan too much, this year I'm looking forward to a more relaxed homeschool journey.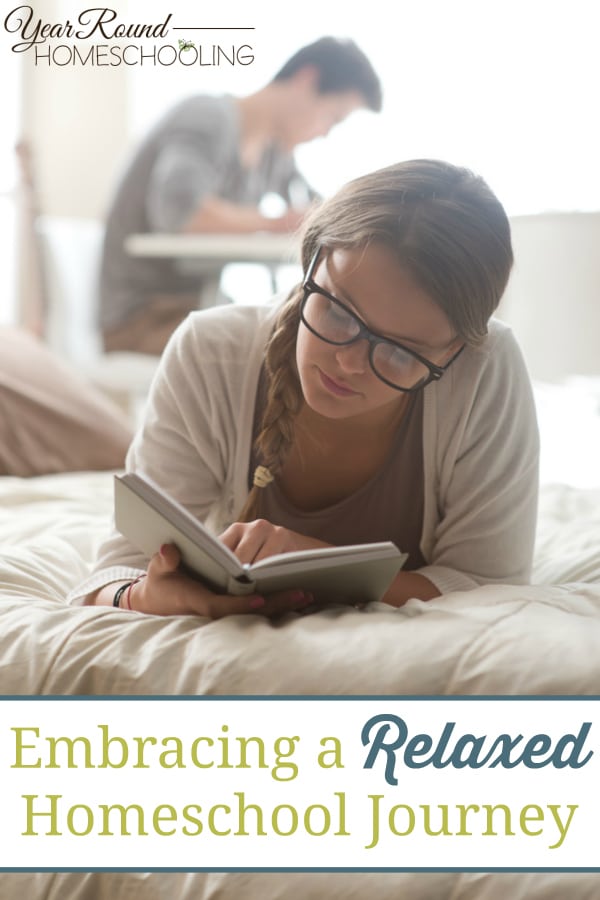 Over the last several homeschool years I've become burnt out long before the end of the year. As my children are growing up I'm realizing more and more the importance of making each moment count and that includes our homeschool days.
I'm tired of merely checking boxes and highlighting complete subjects in my planner. I don't want to just get school done, I want to live the experiences, enjoy the lessons and thrive with my children.
I'm learning that to love your homeschooling journey you have to truly live. Finishing textbooks and projects, passing tests and each grade will not provide a love for homeschooling and learning.
You have to live what you love. 
If you love traveling, you create a homeschooling journey that focuses on travel! We all can't travel and see the world, but the internet allows us to see it through the eyes of others!
Maybe your family loves to read to learn, simply incorporate literature into your homeschool days completely. Snuggle with your little ones and read aloud, read matching books and movies and then discuss them or start a book club, learning through reading quality literature provides an excellent education.
Take time to discover what your family loves and build your relaxed homeschool journey around it. 
My family enjoys living life on a day to day basis, no rushing or concrete plans in place. So, in order to accommodate our lifestyle we're becoming relaxed homeschoolers.
4 Steps to Embracing a Relaxed Homeschool Journey
Rigorous schedules, including start times, breaks or time blocks work well for my family. Instead we will get moving each morning whenever we wake up and simply take the day as it comes, completing each day's lessons at our own pace.
Our lesson plans are flexible
I learned over the last two years that unplanned homeschooling did not work for us, so while I am creating weekly lesson places we will adjust our lessons as our days require.
Focusing on student's passions
My son has expressed an interest in culinary school after high school, so our kids in the kitchen classes will become a weekly, more intense class for him. My daughter enjoys public speaking and memorization, so I will be adding more recitation and "news" journalist opportunities into her homeschool year.
Everyone needs time to just relax with no tasks to complete. While the time of day we spend quiet will change, it will be a constant in our daily routine.
I am honestly thrilled to begin our new homeschool year. I'm more at peace with my outlook regarding our schedule and lesson plans than I ever have been. I have no doubt that having taken the time over the last two years to learn exactly what my family needs and enjoys will make a huge impact on our homeschool journey going forward.
What steps are you taking to ensure a relaxed homeschool year?