Take your kids on a nautical adventure with our Free Nautical Unit Study! You'll discover historic vessels, learning fun nautical terms, create fun nautical science experiments and more!
Below you'll find resources for a free unit study, exclusive nautical printables and other nautical resources for your middle schooler. We've compiled various online resources including; nautical history, navigation resources, videos, activities and more.
To get you started in planning your middle schoolers nautical unit study, be sure to sign up below to receive our free nautical printables. Inside you'll find notebooking pages, vocabulary worksheets, games and more.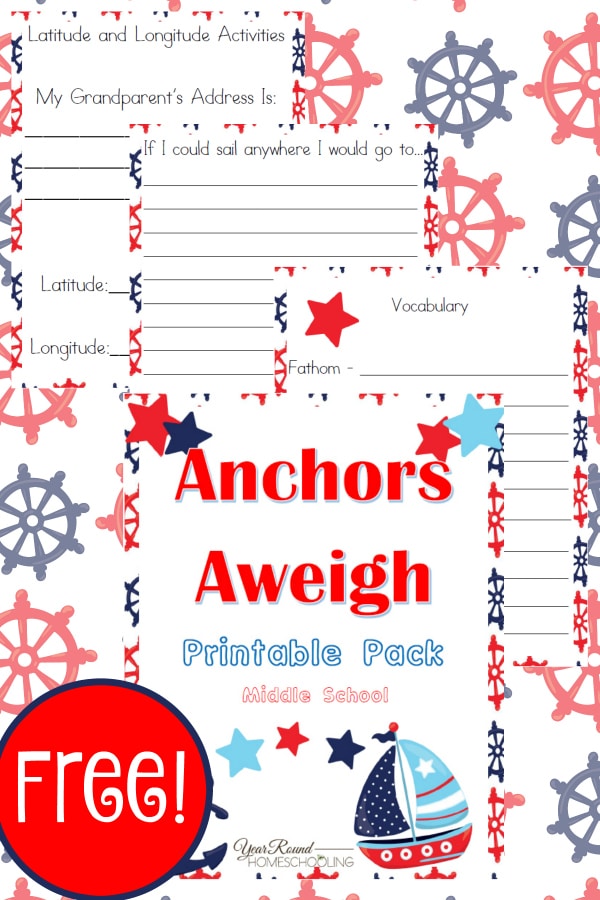 To receive this Free Nautical Printable Pack you MUST sign up to receive our emails below.
Be sure to check your spam for the freebie. It will be coming from [email protected]

Vessel Types (Online Article)
History of Historic Vessels (Online Article)
History of Navigation and Mariners (Online Article)
History of Nautical Almanac (Online Article)
History of Anchors Aweigh (Online Article)
History of Mariners (Online Article)
History of Watch Schedules (Online Article)
Navigation in Ancient Times (Online Article)
Maritime History Podcasts (Free Online Resource)
Historical Map & Chart Collection (Free Online Resource)

Navigation Tools (Online Article)
Latitude and Longitude Finder (Free Online Resource)
Lesson on Traveling the Seas (Free Video Resource)

Boat Facts for Kids (Online Article)
International Nautical Code Flags (Online Article & Free Printables)
Nautical Language (Online Article)
Nautical Phonetic Alphabet (Online Article)
Nautical Measurements (Online Article)
Tin Foil Boat (Online Tutorial)
Soap Boat Experiment (Online Tutorial)
How to Make a Toy Motor Boat (Video Tutorial)
How Much Weight Can Your Boat Float (Online Tutorial)
Float My Clay Boat (Online Tutorial)
Sink and Float Physics Experiment (Online Tutorial)
Baking Soda Boat (Online Tutorial)

How to Draw a Nautical Star (Online Tutorial)
How to Draw 6-Sided Nautical Star (Online Tutorial)
How to Draw a Viking Ship (Free Printable Tutorial)
How to Draw a Tugboat (Free Printable Tutorial)
How to Draw a Mayflower Ship (Free Printable Tutorial)
How to Draw a Cruise Ship (Free Printable Tutorial)
How to Draw a Submarine (Free Online Tutorial)
How to Draw the Titanic (Free Online Tutorial)
How to Draw a Pirate Ship (Free Online Tutorial)
How to Draw a Sailboat (Free Online Tutorial)
First Fleet Ship Drawing Tutorial (Free Video Tutorial)
How to Draw the Mayflower (Free Printable Tutorial)
Nautical Canvas (Free Online Tutorial)
DIY Nautical Bracelets (Free Online Tutorial)
Newspaper Pirate Ship (Free Online Tutorial)

Anchors Aweigh Player Piano (You Tube Video)
Anchors Aweigh Piano Lesson (You Tube Video)
Anchors Aweigh Ukulele Lesson (You Tube Video)

Seafaring Puzzles & Games (Free Printables)
Nautical Charts (Free Printables)
Navigational Star Chart (Free Printable)
Learn How to Tie Knots (Free Printable Tutorial)
Boat Building Challenge (Free Printable Tutorial)
Make Your Own Compass (Free Printable Tutorial)
Nautical Chart Challenge (Free Printable Tutorial)
Be a Shipwreck Detective (Free Printable Tutorial)