Every year we know that this time will come. Winter. Homeschooling through the winter blues isn't easy to do, but it can be done. It must be done. And it can be fun.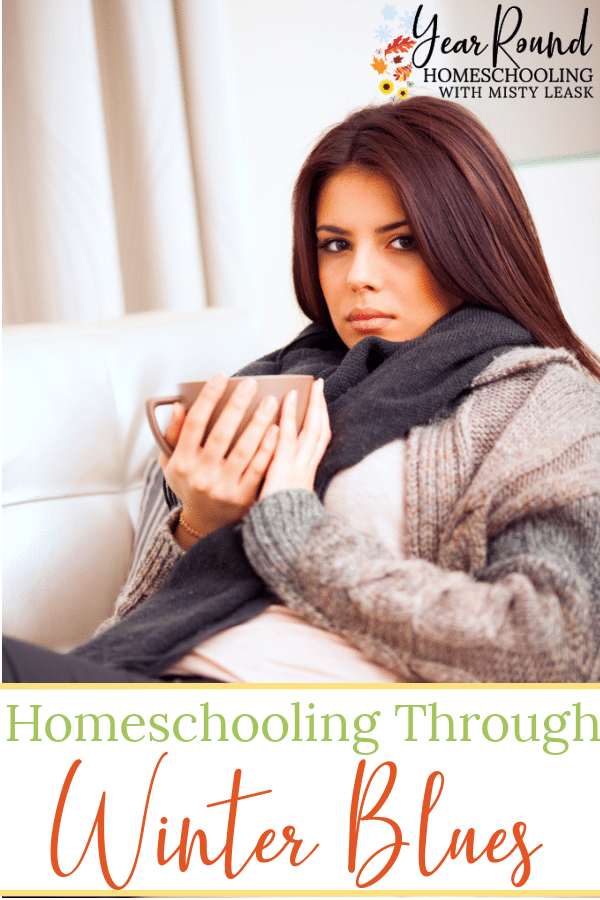 When we kick off the new school year as summer comes to an end, we don't tend to think about it because of all the excitement in the air, the new school books waiting to be opened and the new resources that both our kids and we can't wait to dig into!
Yet, winter will come. The fun of the new homeschool year will cease. We and our kids will come to a place where we just don't want to crack open the school books and we'll wish that the school year would just end already.
It doesn't matter where you live, there will be periods of winter blues that you'll face throughout your homeschool journey. The sooner that homeschool moms realize this fact and accept it, the better off of our homeschools will be.
Acceptance and preparation are key steps to ensuring that you can homeschool through the winter blues and have fun. When we take time to accept that we will have winter blue days in our homeschool we'll be able to be prepared for them before they arrive.
Winter Blues Homeschool Preparation
When the winter blues arrive in your homeschool, it's time to change things up a bit. The problem is that if you don't take time to prepare for these moments before they appear, you'll more than likely just take time off from school because no one wants to "do school".
While taking a few days off for a break may be what you need, sometimes you and your kids just need a change of pace, scenery or activities to send the winter blues along on their way.
Take time to think about the things your children enjoy most on their own, activities that they ask to include for school and things you'd like to teach them that didn't make the lesson plans this year. Using these ideas as inspiration, create 2-3 weeks worth of fun "lesson plans" that your kids would truly enjoy and that will bring you together as a family.
Whether you spend a week working on an art project, several afternoons completing science experiments or cuddle up on the couch reading aloud together, discover what educational things you and your children enjoy doing together and add them to your winter blues homeschool plans.
Winter Blues Homeschooling Tips
When your homeschool hits the winter blues stage, the best way to keep your children moving forward is to get involved yourself.
You already know that your kids don't want to touch their books and you probably don't want to either, but you know that you can't just do nothing for an extended period of time. So, in order to encourage your children to get through the winter blues, you need to participate too!
If you've hit the winter blues don't fill the day with educational activities.
You don't have to do as much as you normally do to homeschool through the winter blues, pick one or two projects a day at the most. You can encourage your kids to read, write, draw or create on their own outside of these activities, but give them (and you!) a much-needed break too!
Get outdoors if possible.
The cooler temperatures can inspire you and your kids to keep moving forward, that may be just what you need to get back to your homeschool schedule. Enjoy the time outside the walls of your home, take note of the world around you and encourage conversation regarding what you all see, hear, taste, smell and touch while you're outside!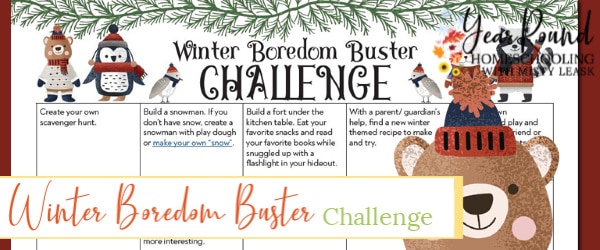 Homeschool Winter Blues Activity Ideas
If you're not sure where to get started with fun, but educational ideas for homeschooling through the winter blues, check out the activity ideas below!
Play board games (These are great resources for teaching math, geography, government, logical skills and more)
Complete science experiments (Kids love to watch science in action!)
Watch a movie/Read the book (Compare them to each and discuss the differences, similarities, etc. Grab this pack to help!)
Build a puzzle (Excellent for problem-solving, memory, motor skills and more)
Read together (It doesn't matter how old or young your children are, read to them!)
Bake/Cook (Spending time in the kitchen is great for relationships, math and science)
Create art (Don't just reach for crayons and paper, try something new look into abstract art, models, painting and more!)
Visit the library (Get new literature to read aloud or during quiet time!)
Don't let the winter blues mess up your homeschooling journey. You can have fun together as a family as you continue to educate your kids.
Homeschooling through the winter blues can be lots of fun! Change up your homeschool day and watch your kids learn while you all have fun together!
What are your favorite homeschool activities when fighting the winter blues?