Family vacations take a lot of preparation and often getting to the location takes quite a bit of time. Both preparation and travel time are great ways to make family vacations part of your homeschool!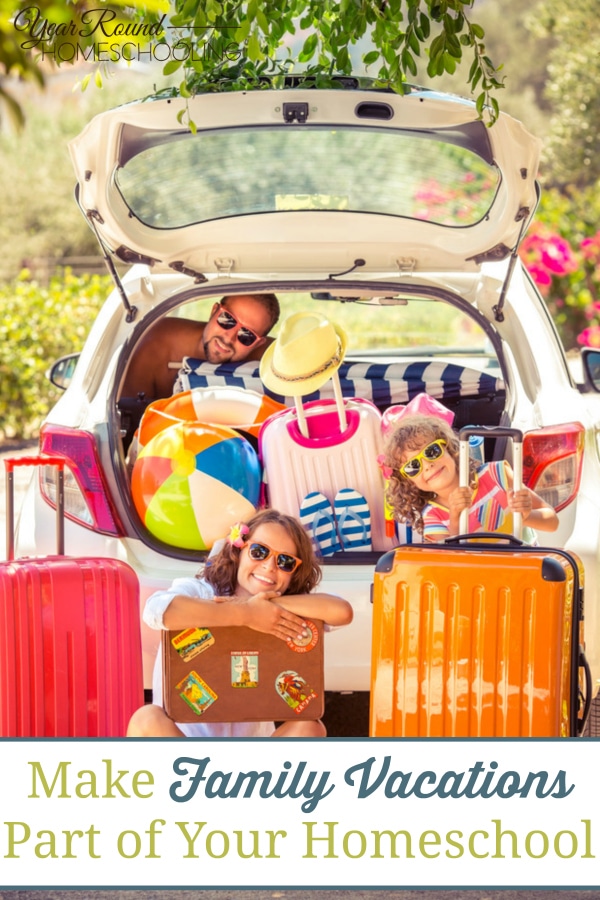 Family vacations are something that every family needs and it doesn't have to cost an arm and a leg. As a year round homeschooler you can even save money on your family vacations!
Before you start preparing for your next family vacation, take time to identify ways that you can include your children in the prep work. Not only will it make your vacation part of their homeschool, but they will learn to be more appreciative of your family vacations once they see everything that it requires.
A few of the ways that you can include your kids in preparing for the next family vacation are…
Budgeting for Travel – Math skills abound when you have your kids prepare the price of fuel round trip the price for round trip air, bus or train fare, hotel stays, etc.
Length/Time of Travel – Your kids will practice more math skills when they figure out the mileage by car or travel time for air, bus or train travel.
Saving for Travel – If your kids want to go to a special location for the next family vacation, teach them how to save by giving up things they like to get on a consistent basis. Some great options to give them are to give up pizza or movie night, dinner out with the family, new toys, video games, etc.
Packing for Travel – Kids have to be taught what to pack for travel, otherwise someone will forget underwear and socks, while another forgets a swimsuit for a beach vacation. Teach them how to make a packing list for clothes, food, fun stuff for the trip and then to check things off as they pack them.
Journaling for Travel – No matter how you get there, travel time will be involved in any family vacation. This is a great time to encourage your kids to write about what they're seeing along the way, what they'd like to do during vacation, their favorite part of your vacation, etc.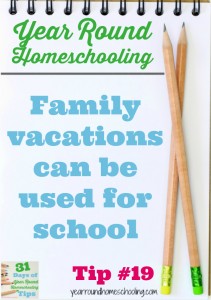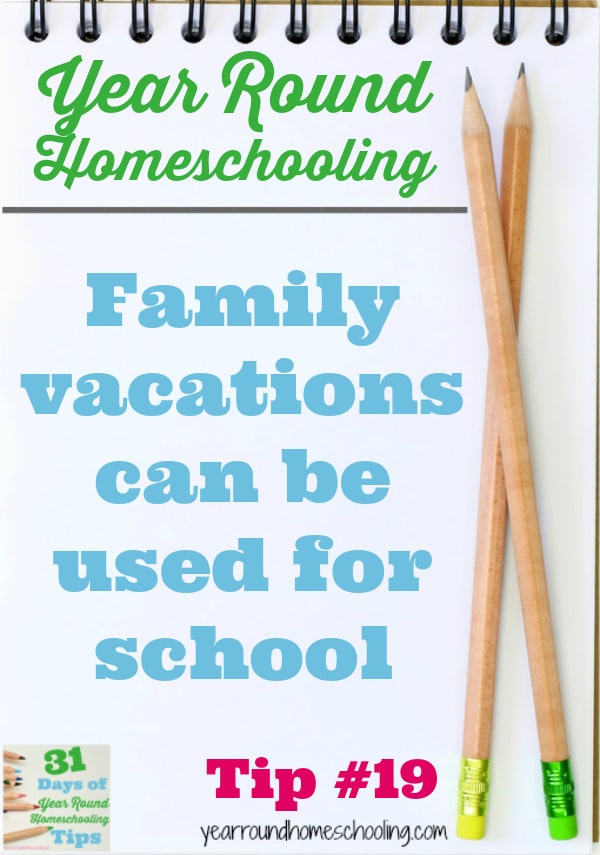 Family vacations provide many learning opportunities, so don't put off a family vacation for homeschooling reasons. Make it a learning experience, take them someplace where they will have learning opportunities brought to them in a fun way!

You can find the rest of the Year Round Homeschooling Tips from this 31 day series here.