After homeschooling for several years, we finally changed our homeschooling method in 2015 . I say finally because it is a change that I'd been afraid to make for several years though I knew it was the right one to make.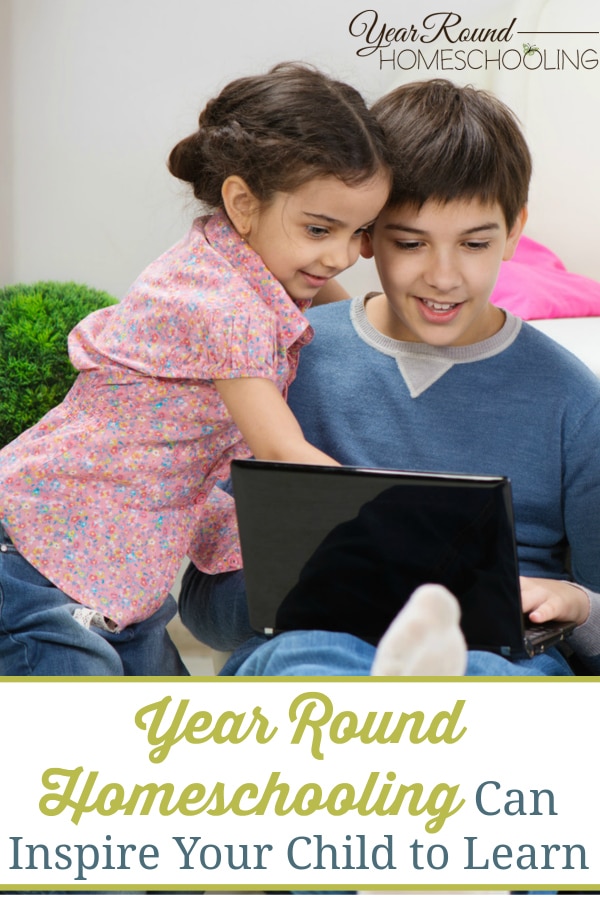 When you're tackling school over the entire year, it can be difficult to keep yourself inspired to homeschool, much less inspire and motivate your kids to do the same. Yet, it really isn't hard, homeschool moms just have to learn to let go of the reins a little bit and put a lot less on their homeschool planners.
Yes, I know that is a lot to take in at once, but it will make your homeschooling life easier, I promise.
[Tweet "Kids can be inspired to learn year round, if they choose their homeschool curriculum! #YRHTips "]
We desire to teach our kids so much and there is an overabundance of homeschool curriculum for us to choose from, but it doesn't matter what we buy if it isn't something our kids will enjoy. I'm not saying that your kids will truly love any math or language arts curriculum if they don't particularly like the subject, but if we choose the right curriculum for our kid's personality and learning style, then they will be a lot happier to do school than they otherwise would be.
Our children can be inspired to learn year round, if they choose some (or all) of their homeschool curriculum! 
Homeschool curriculum has come a long way. There are so many options available to us today that weren't around when I was being homeschooled. It truly is a blessing to have the various options we have now. From textbooks to unit studies, to notebooking, lapbooking and worksheets, you're sure to find at least one type of homeschool curriculum that works for each of your children.
Just as there are countless types of homeschool curriculum available to you, there are many different homeschooling methods to learn about and discover. Knowing which homeschooling method that is best for your child is another key to inspire your child to learn, especially when following a year round homeschooling schedule!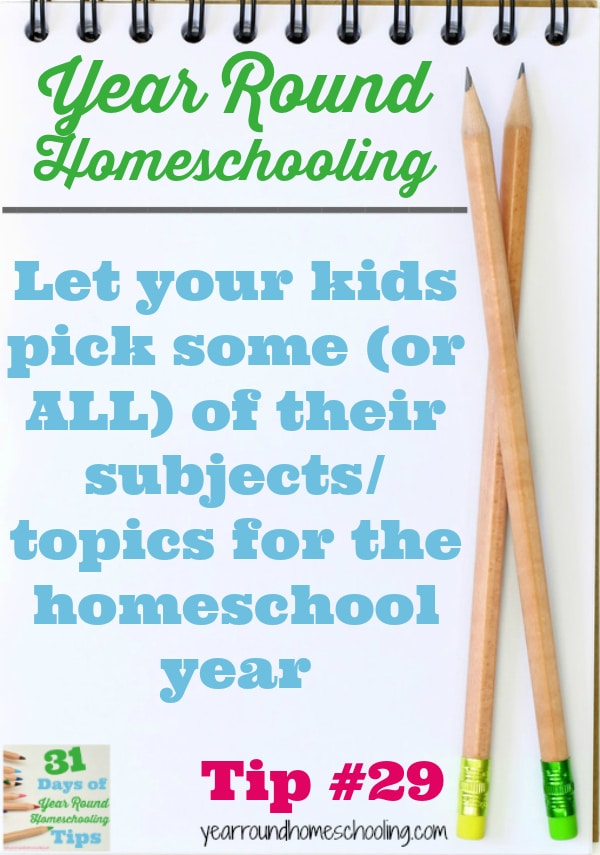 If you've been struggling to inspired and motivate your children while following a year round homeschooling schedule, consider change your schedule, curriculum or take a break. Sometimes we all (mom included) just need a change of pace. Field trips, everyday homeschool moments and impromptu homeschool opportunities are great ways to continue to teach your child without following a strict homeschool schedule!

You can find the rest of the Year Round Homeschooling Tips from this 31 day series here.
Are you looking for more tips beside what is being shared in the 31 Days of Homeschooling Tips for Moms?
I would love to invite you the community inspired by this series, as we strive to inspire, encourage and empower our readers in everything homeschooling.