Homeschooling during a financial crisis can be exceptionally stressful and depressing. You have to be careful throughout your planning to ensure you aren't doing or spending too much.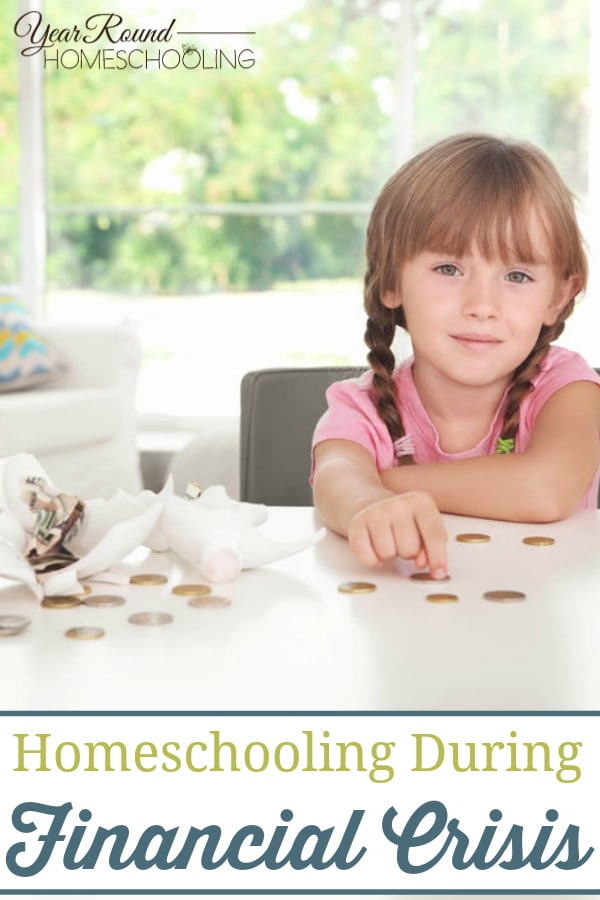 Sometimes things happen that may make it challenging to continue homeschooling in comfort as you may have done before. When a financial crisis hits you do not necessarily have to face a rough time homeschooling. You just have to know where to get started!
4 Tips for Homeschooling During Financial Crisis
You can easily find free or very affordable homeschooling resources, if you know how and where to look. As a matter of fact, there are parents who specialize in homeschooling their kids almost 100% for free.
Start out looking for free homeschool resources by checking online for curriculum, videos and resources. Ensure that you are looking for options that are geared towards the age/grade level of your kids and/or what you're covering in your homeschool.
Connect with other homeschoolers and exchange resources or buy them secondhand.
The library is also another great source of free homeschooling material that most people ignore. Head over there and seek content that is updated and relevant to what your kids are learning.
You can also recycle curricula or hand them down from one kid to the other instead of buying something new every year. This will save you substantial amounts of money.
You will be surprised at how much our kids understand things. If you are in the midst of a financial crisis, talk to them directly and let them know that you will need to cut down on some expenses because times are tough. You will find them pretty cooperative and eager to make your life easier by not creating tantrums over small inconvenience they will face during this time.
Work together with your kids to find places that you can cut back on your expenditures. Start by either saving every receipt when you spend money or stop using cash and look over your checking account to see where you're spending money. You can then create a budget to help you keep track of your spending more easily.
Kids are great at thinking outside the box! Have a family meeting and work together to come up with ways that you can make money together as a family. The internet provides a market for you around the world and your neighborhood is a great place for kids to start earning a bit of money on their own. A financial crisis calls for all hands on deck because it is a great time to work together!
Homeschooling during financial crisis doesn't have to cause you stress. There are plenty of free and frugal homeschooling options that will make it easier for you. Don't be afraid to think outside of the box because there is no wrong way to homeschool!
How have you continued homeschooling during financial crisis?