Year round homeschooling has been a life changer for my family. Life before homeschooling year round was stressful. We struggled to fulfill our state's required homeschool days, finish textbooks and lesson plans, while attempting to enjoy living life. Our early homeschooling years did not bring us freedom or happiness. Thankfully, I followed God's prompting to change our homeschooling schedule by becoming year round homeschoolers.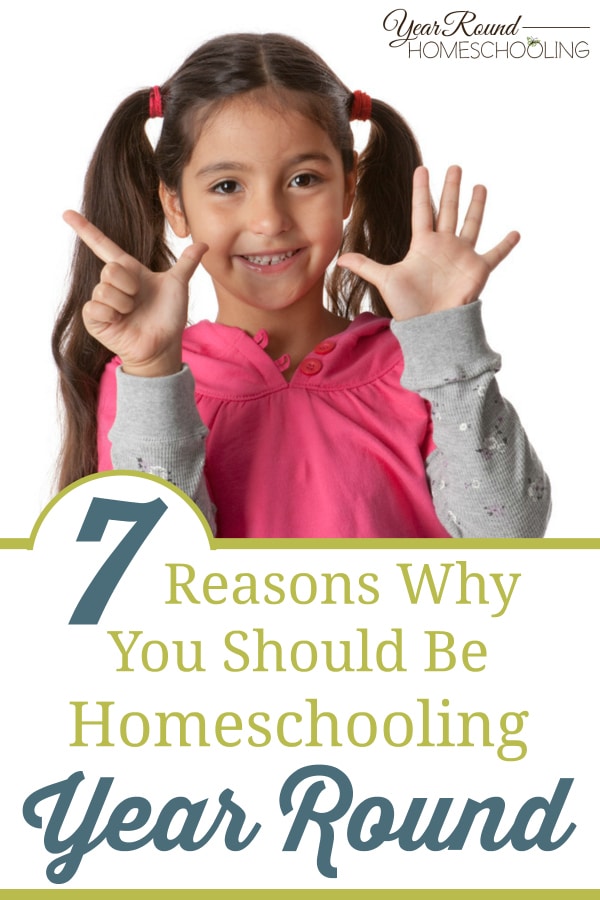 Since year round homeschooling has been a life changer for my family, I am a big advocate for year round homeschooling. I believe that by homeschooling year round homeschool families will be more blessed and less stressed.
It is easier to fulfill state homeschool day requirements
Most states require 170-180 homeschool days a year. Following a 9 month "normal" school schedule using a 5 days a week homeschooling method you only have 180 days to complete your homeschool year. So, you can't skip a day or be sick without having make up days in the summer or homeschooling on the weekend. By homeschooling year round using the same 5 days a week homeschool method you have 240 days to complete your homeschool year. This gives you an extra 60 days for vacation, sick days or just off days to use throughout the year.
Less full homeschool days are possible
By using a 12 month homeschool schedule you don't have to over plan your homeschool days. You have the ability to spread out your lessons or space out entire subjects throughout the year!
You can teach seasonal subjects/topics at the right time
Children learn better when they can experience what you're trying to teach. For example, learning about the beach during the cool days spring or fall isn't as much fun or as educational as it would be in the summertime and studying the four seasons necessitates homeschooling during spring, summer, fall and winter.
Quality family time can happen more often
Spending time together as a family is one blessing from homeschooling, but you don't want to spend all of your family time homeschooling. As year round homeschoolers you can adjust your schedule according to your husband's of time, to allow for frugal vacations or to just take a break from homeschooling and enjoy time together.
You can take more homeschool mom breaks 
There are times when a homeschool mom needs to take a break. Whether she needs a day or a week off to have fun or find peaceful moments, year round homeschooling makes it easier for a homeschool mom to have those important times. You don't have to worry about falling behind and are able to take care of yourself without feeling stressed about taking time off.
Finishing homeschool studies is easier
Most textbooks have 180 lessons in them, so taking days off when your kids need a break or spending extra time on a different subject/concept will put your child behind when following a "normal" school schedule, while year round homeschooling allows for both because of the extra 60 days that you gain by homeschooling year round.
Truly enjoy the holidays with your family 
Instead of taking just a day or two off to enjoy holidays like Thanksgiving or Christmas,  you can take a week or two off to truly enjoy the holiday with your family.
Don't allow an incorrect schedule to take away the blessing and happiness that a homeschool journey can bring you and your family. Year round homeschooling can completely change you and your family's lives.
What does your homeschool schedule look like?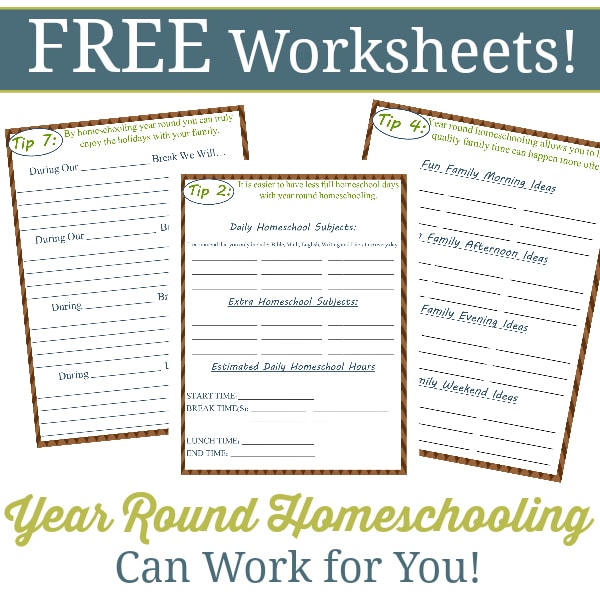 To receive these Free Worksheets you MUST sign up to receive our emails below.
Be sure to check your spam for the freebie. It will be coming from [email protected]
If you're viewing this post in your email, please click here to access the download form.