Being thankful is something that we all can do better. It is easy to forget just how much we have when we get busy in our daily lives. As parents, we must be diligent to ensure that our children learn to recognize their blessings. The entire family can use this Thankfulness Challenge throughout the month of November – or anytime during the year!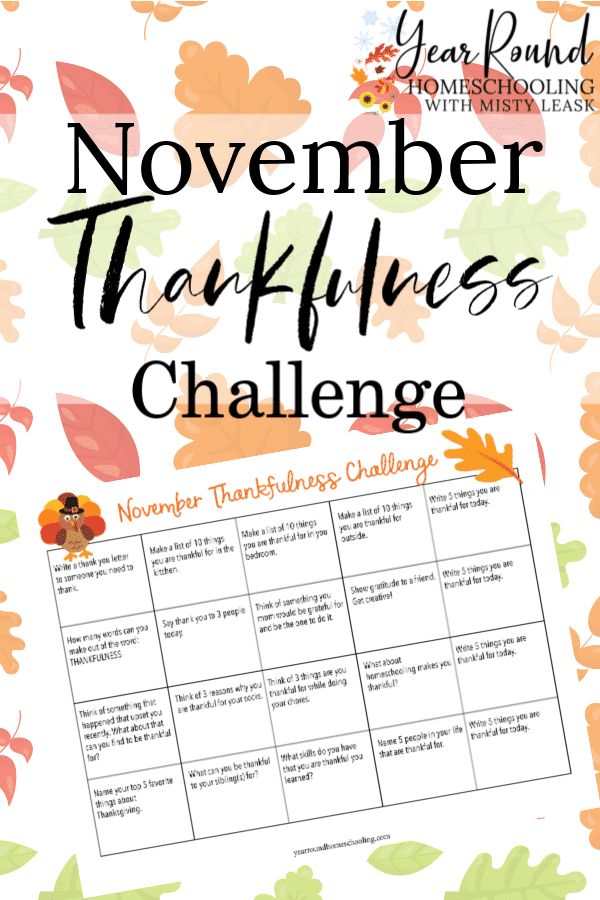 If your children are struggling to see the blessings they have in their lives, consider finding volunteer opportunities for them in your community. Sometimes they just need to have their eyes opened to the blessings that abound in their own lives.
Throughout the month you'll be keeping track of things you're thankful for in your home, friendships and family, writing thank you notes and much more!Ready for more challenges to use in your homeschool?
Need more challenges for your homeschool? Check out this kindness challenge, writing challenge, get healthy challenge, building challenge, writing prompt challenge, summer bucket list challenge, patriotic challenge, get moving challenge, back to school challenge and fall writing challenge!