As year round homeschoolers summertime isn't just about having fun, instead we use some of the long days of summer to continue educating our children. To some that might sound boring, but it doesn't have to be, learning can be filled with fun! Summer is often the time of the year when we head outdoors to explore nature, spend days reading and listening to music while relaxing lakeside.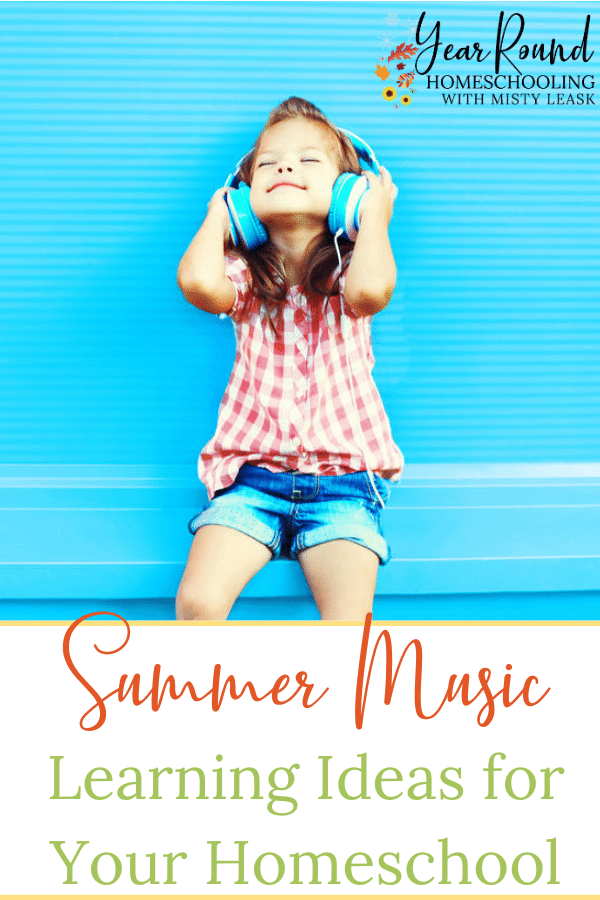 Learning about music is a wonderful summertime activity because it can be done anywhere. You can listen to music while enjoying a picnic in the sunshine, watch a musical out under the stars or complete a unit study when it is just too hot to be outside. Let these music learning ideas for summer spark your imagination!
Summer Music Learning Ideas for Your Homeschool
Music Curriculum
The resources below are easy ways to teach your kids music over the summer without feeling like you are carrying a full subject load. You'll find unit studies and short music lessons to make summer music learning fun!
This summer listen to a few summertime musical compositions by using this free 15 minute summertime music lesson.
Your children will enjoy listening to American music through this free summer music appreciation lesson.
Teach your little ones summertime songs and complete crafts using these fun ideas (some include crafts to match!).
Start tinkling the ivories this summer! This is a great way to give your children the opportunity to try out piano lessons.
Encourage your preschoolers to learn rhythm, counting, bass and treble clef and more with this free music lesson.
Introduce your children to classical music and beautiful artwork at the same time. This is a great way for your kids to cover fine art over the summer.
Study the beautiful music of Jazz, Bebop and Scat this summer with your K-4th grade students using this fun unit study!
Spend 1-2 weeks this summer learning about composition, instruments, the science of music and more with this K-4th resource.
Musicals
Family movie nights are a favorite in our home, sometimes we don't even wait for nighttime. Watching musicals together as a family is a fun way to cover music over the summer. I've put together a list of my favorite musicals, including options that will appeal to younger and older students.
If you need more inspiration for musical movie night fun, consider these options for teaching history and music with musicals!
Musical Crafts
Crafts are a must for summertime learning! You can take the mess of it all outside and enjoy sunshine while creating works of art and music in this instance. These musical crafts will keep your kids entertained all summer long, I'm sure of it. You might want to send them outside to play with some of their new instruments though!
Music Printables
There are hot days in the summertime in parts of the world when it is just simply unbearable to be outdoors. These music themed printables can help fill those long days with music learning fun!
Music is a subject that should always be part of your homeschool, no matter the time of year. Adding it into your summer days can be as simple as using a playlist or as complex as completing a full music curriculum all summer long.
If your summertime homeschooling tends to be a bit more relaxed like ours and you need to have some time for yourself, your kids can continue learning music using these 20+ Free Music Learning Apps!
P.S. Another great idea for fun summertime music is singing around the campfire while camping as a family. 🙂